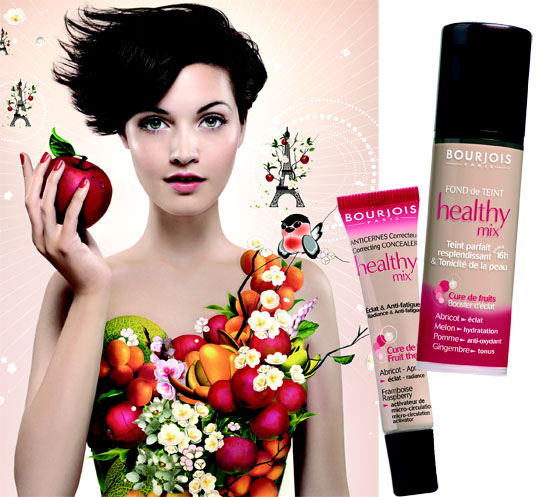 We previewed Bourjois' new Healthy Mix foundation and concealer a while back and then a fruit bowl containing ginger, melons and apples arrived to my office a few weeks ago. Nestled inside were two shades of the base and a concealer, along with the official word on the new products. Once I'd gnawed down on a slice of melon or three, I set to work. The peachy, apricot-shaded foundation in Light Vanilla proved to be a good pick for me (as a guideline, I'm a Mac NW15 and would normally go for something a little cooler toned) and the concealer in medium radiance did the trick too, shade-wise.
Bourjois make some big claims for these products: 16 hours wear with eight hours moisturisation is promised, along with a good-for-you component in the form of fruit ingredients.  Do they deliver?
I have to say, the foundation is great. It's a no-nonsense, slap-it-on-and-forget-about-it base that's working well for me for daytime. It doesn't have sparkles, spangles or anything madly fancy and technological in it (it was what I used for the foundation brush how-to, so you can see the finish and texture on that post), but it does give medium coverage and lasts well on my dry skin, without making it flake or feel tight.
Lots comes back off on my Eve Lom muslin cloth at the end of the day, so it is staying put.  Really, this does what it says it will, and there's no more to be said. I'd mark this down as a good basic foundation that a lot of women with normal-to-dry skin will find does the job for them. €15.99 is the reasonable damage, and it comes in eight shades.
Advertised
What about the concealer?
This is ok. I like the tube - it's easy to squeeze a blob onto the back of the hand for application with a brush, or fingers. The packaging is hygenic and the consistency is somewhere between the fluidity of Touche Eclat and the creaminess of Bobbi Brown's creamy concealer.
Out of preference, I will always go for a cream product  - I just like 'em. So this is quite thick, but not quite thick enough for me. I usually use concealer around the eye area, brushing it, and patting it into place, over the shadows by the nose and to the outer corner of the eye. If you have very dark circles to conceal then this won't really be up to it. It would be better used elsewhere on the face - maybe a little on cheeks to mask redness or around the nose where skin can often also be redder. But it has good longevity, doesn't dry out the delicate around the eyes, and all-in-all isn't a bad little product for the €9.99 price tag.
So, that's me - have you tried either product? Leave us a comment and let us know!