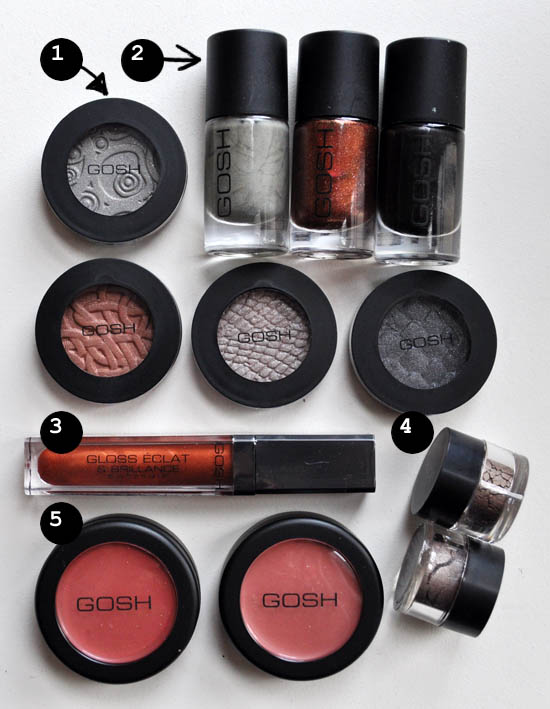 All on counter now and most items are under a tenner - plus there's currently €2 off everything and prices below reflect the discount - Gosh's Urban Jungle collection gathers together a nice edit of taupes and construction colours for eyes and nails, with a couple of colour pop-accents for lips and cheeks. So, what's what?
Mono Eye Shades come in Light Grey, Rusty, Silver Brown (a beautiful, sparkly taupe) and Dark Grey, for €5.99 each. Quick swatches confirm these are soft, cream and pretty sheer with the exception of Dark Grey, and suitable for use as washes and will have much more impact over a cream base or primer
Nail Lacquers, €6.50, come in Fossil Grey, Rusty and Black Passion
Light n Shine Lip Glaze in Rusty Red 104, €10.99
Two Eye Dusts, €7.99, are definitely ones to look at for fans of shimmering taupes. Shades are Clay (bottom) and Soil (top) and are high-shine, shimmering loose powders that are very pretty. Not as high-pigment as a Mac offering, but about half the strength. Over primer, these would really really pop
Lastly there are two Cheeks n Lips, multi-functional pots of colour for - you guessed it - cheeks and lips. They're €10.99 and come in Back to Nature (right) and Earth Bound (left). They're creamy and glossy and nice to work with. As a dupe for Bobbi Brown's far pricier Pot Rouge's, I think they'll do quite nicely, too.
Advertised
So - that's Gosh's winter lineup. Liking the look of anything?
Get Beaut.ie Delivered
Stay updated with Beaut.ie newsletters full of the latest happenings at Beaut.ie as well as great offers and things we think you might find interesting .