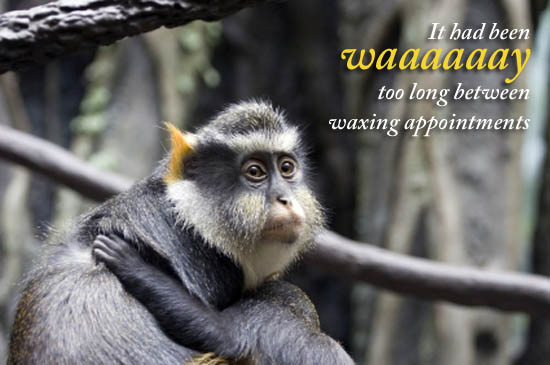 It occurs to me yet again, as I scramble desperately to get ready for my upcoming holliers, that blokes have it so easy. To date, Himself's pre-holiday preparations have involved getting his vaccinations sorted and asking me to order some contact lenses for him. I am currently hunting for at least one decent pair of not-too-short shorts that don't make my arse look misshapen, a magic swimsuit which will create the illusion that I spend more time exercising than watching Heroes and dining on Dominos pizza, and some gold flip-flops to replace a pair that were well past their prime even before the dog decided to have a chew on them last week.
On the beauty front, I had a pedicure recently and will have another before we go. Yes, yes: it sounds like I'm gone fierce fond of myself altogether, but I'm hoping having them prepped by a pro will mean that I won't spend yet another holiday grimacing at the hack of my hooves in open-toed shoes.
I'm also growing out my eyebrows as I'm planning to have them threaded next week and want to give the therapist something to work with. This is the downside of going to a professional to have your brows done and is a proper nuisance, as far as I'm concerned. I've nearly abandoned the whole enterprise a couple of times and gone at the straggly hairs with a tweezers because they look so untidy.
Advertised
Unlike a bikini line or a leg or an underarm that's between maintenance sessions, there's no hope of completely hiding eyebrow regrowth if you don't have a fringe. It can be disguised, though, if it's really driving you mad...
This might seem counter-intuitive, but don't abandon shaping the body of the eyebrows with powder or pencil when growing them out. I find that defining brows as usual actually makes any stragglers look less obvious.
Apply a full-coverage concealer or foundation to individual hairs using a small brush.
For dark hairs, dotting a small amount of white eyeliner pencil onto each hair and then blending it well to get rid of any hard edges will make them easier to cover with make-up.
Borrow an old drag queen trick for hairs that are proving really difficult to cover up: use brow wax (or a washable, non-toxic adhesive children's adhesive like Pritt Stick) to stick them down onto skin before applying concealer. The tackiness will hold wayward hairs as well as concealer in place (YouTube's Petrilude has a useful how to video for anyone unfamiliar with the technique.)
Lastly, avoid the temptation to examine your brows closely in mirrors. If you can't see them, you won't be tempted to start plucking!