 Are you a Weekend Expressionista?  Have you even heard this phrase before?
No me neither because it's just been made up.  Check this.

So I'll just translate that. If you're stuck in a sedate job and have to wear office clothes all week then the weekends might be the only chance you get to let your wild side out.  Nails, makeup and clothes are no problem - easily removed and transformed back into nine to five appropriateness.
But what about the gruaig?  That's precisely where HAIRchalk (€18) comes in.

Advertised
Add some to your hair and (depending on the colour you've already got) you can rock some very different shades during the weekend.  Fancy turning your ombre ends pink?  Or maybe you're blonde or highlighted but have always had a hankering to see what it would be like to go blue?  Well now you can.
It only lasts for two to three washes so you can easily be back to your "butter wouldn't melt in my mouth" look in time for Monday.
HAIRchalk was used backstage at London Fashion Week - heres a look at some of the results they achieved.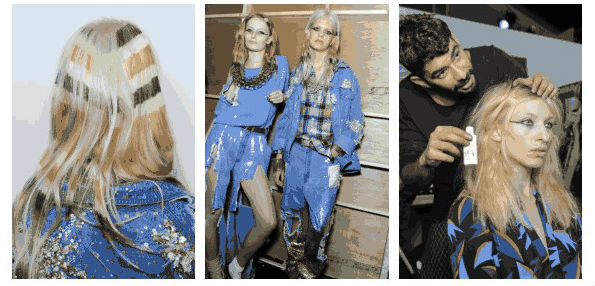 I haven't tried it yet but I will be giving it a go for sure.  You just brush it into dry hair and the colour promises to be transfer resistant.
Advertised
What do you reckon?  Is this something you'd like to try?
L'Oréal Professionnel Hairchalk is available as a new in salon service and to take home  L'Oréal Professionnel salons nationwide.