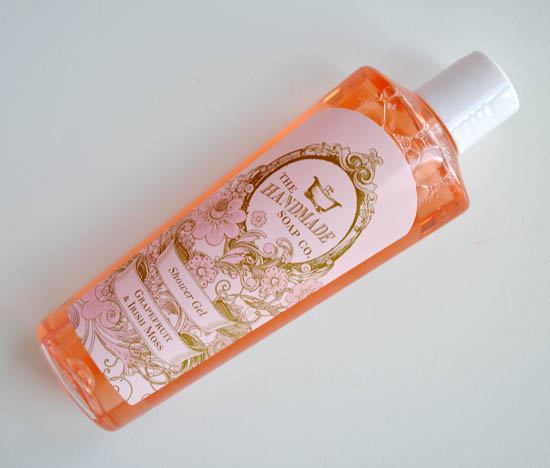 A couple of weeks ago a guy from the Handmade Soap Company - a newish Irish beauty business located in Kells, Co Meath - got in touch to ask for an address so that he could send us in a couple of products for testing. When he said a couple he actually meant a jillion, so I've people trying this stuff on any available limb right now. Of course I took some off for testing too, immediately falling for the Grapefruit and Irish Moss Shower Gel.
Firstly, the Handmade Soap Company has gotten the price right with this: it's €6.95. That's about at the top of what most people want to pay for something they literally pour down the plughole, no matter if it's created by an Irish brand with a lovely ethos. Yes, I have paid considerably more in the past for shower gel, but €6.95 is something I can happily live with, and I think lots of us can. Secondly you get a decent amount - 250ml.
Thirdly, loving the labels and overall vintage feel to the packaging. Yes, I would very definitely prefer a squeezy tube because the flip-top on this is a bit of a pain in the shower, but it's not a dealbreaker. That vintage thang is carried across the whole line by the way - I'm sure when feedback starts to trickle back to me from those I handed goodies to we'll hear more about it - and it's really well done.
Fourthly, this smells oh-so-good! Like sweets, but not modern yuck sweets - like old-skool sweets, not too sugary but really nice and edible. Lovely. It's quite thin, and doesn't foam up. That might be an issue for some, but not me because that leads me nicely to point five.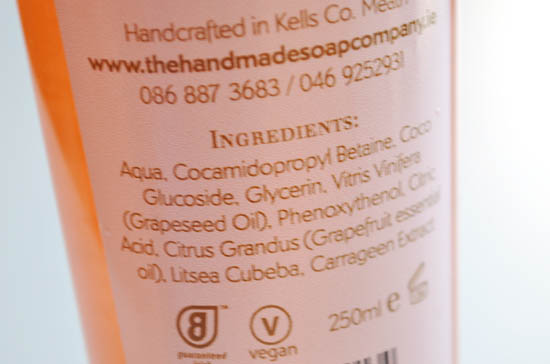 Advertised
This doesn't have any sulphates in it. In general, I'm an equal opportunities chemical lover (hello silicones my old friend) but sulphates are one I can really leave behind as I find them very drying. SLES and SLS are ubiquitous in most shampoos, shower and bath gels and preparations as they're the foaming agent - they're also what does the degreasing and stripping of oils from scalp and skin. Most people don't have any issue with them - and it's not that sulphates cause me particular grief but I do like to avoid them because products with big proportions make my skin feel like the Gobi desert.
So, well done Handmade Soap Company. In fact, this contains all naturdelll ingredients, is vegan, cruelty-free and all round kind and nice, as well as being guaranteed Irish and supporting and creating Irish jobs.
Not just well done, then - bravo.
I'm impressed - check out their cute website for the rundown on the rest of the product range and the gen on how and where to buy.