 My makeup kit weighs as much as the average toddler. It's not that I wear all these items every day but more so that I have to have them near me ar eagla na heagla that I need something. If ever there is a national crisis where the only fix is a three year old eyebrow pencil with a spoolie covered in fur of questionable origin, I'm your woman.
Which is why whenever something comes along that is designed to do a few jobs at once, my shoulders and chiropractor holler in glee and do bony, happy dances. 
Nyx Wonder Pencil promises to do just that. It's a hard worker, promising to conceal, brighten and line.
And it comes in three shades, light medium and deep.
And I've swatched the actual pencils on my hand below so you can see how they compare.
Advertised
And what of the three claims? 
Hide blemishes: apply the pencil to the blemish and blend with a brush or just your finger - I find the tip of your finger to be the best because the warmth helps it to blend well.
Lip liner: line the outside of the lips to prevent your lip colour from bleeding and fill in with the Winder Pencil to make the colour pop.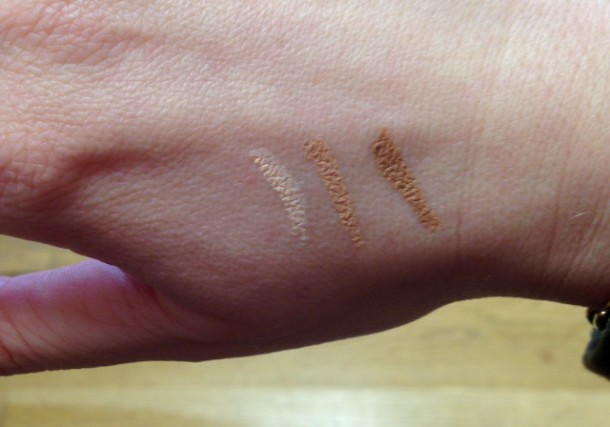 I am going to award this fella a healthy 75% mark because it worked perfectly to conceal blemishes and to brighten the water line but as a lip liner, it just didn't work for me. The colour was simply too much of a contrast to my own skin tone.
But in the words of a politician, on mature recollection I am going to increase its score to 80% because I did use the pencil to highlight my cupid's bow. And with the budget price tag of €5.99, Wonder Pencil, take a bow.
Advertised
Have you tried this latest offering from Nyx? Are you guilty of having a monstrous makeup kit like me and can anyone rival my dodgy eyebrow pencil from 1995? To the comments!