 Come hither, Beauties! We have some very, very special news that you will most definitely want to get the Skinny Mocha Cinnamon Latte on. 
Beaut.ie have teamed up once more with our wonderful pals at Benefit to host a fabulous event devoted to your favourite subject - beauty. And trust us, if beauty is your game you will not want to be left out of this exclusive one-of-a-kind experience.
This will be the hottest bash you skip merrily to this Christmas, for Benefit want to introduce you to extra-special guests, beauty gurus extraordinaire, the daughters and nieces of Benefit founders Jean and Jane Forde...meet Maggie and Annie!
On December 9th in Arnotts, the beauty darlings will be on hand to solve common beauty dilemmas and to give essential answers to pressing beauty-centric questions. There's no better way to be brought up to speed with all things make-up and skincare than with Maggie and Annie's trend talks and fabulous masterclasses.
You know that's not all, nope, not by a long shot. We will be yapping about current looks,  gabbing about Christmas (suggesting goodies for you and gifts for your kin) and chatting about all things in between.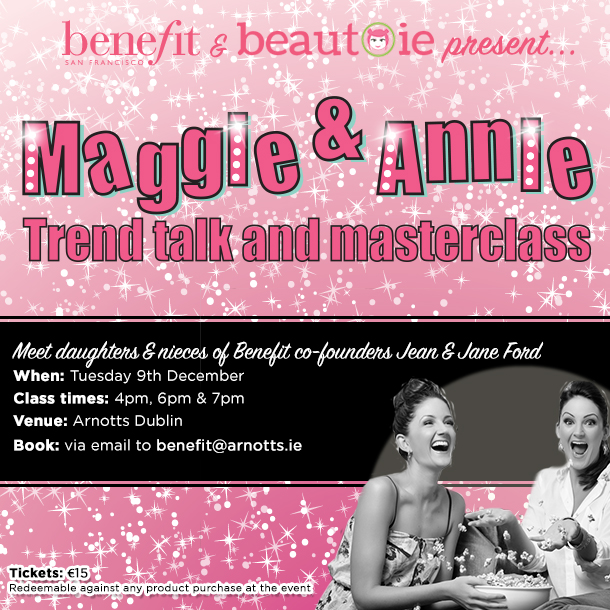 Advertised
This night with Benefit and Beaut.ie will be wonderful and amazing (and yes, there will be fantabulous goodie bags  to pink knee-high boot) but space is very limited so if you would like to join us you must beat the early bird!
Signing up is easy, just email your name, your preferred choice of time and your telephone contact details to [email protected] and Arnotts will contact you to arrange payments over the phone - tickets cost only €15 and will be fully redeemable against Benefit products on the night!
So, do you have issues with glitter? Contouring giving you bother? Is your Christmas Look proving hard to do? Maggie and Annie's Trend Talks and Masterclasses are all about you, so let us know on Facebook, Twitter and in the comments below what beauty conundrums you would like Maggie and Annie to solve.
Oh, and one final thing! One lucky Beautie will receive a terrific Benefit hamper worth €150! All you have to do is share the love on Facebook and Twitter.
Advertised
Thrilled about Christmas coming early? We are too! Looking forward to seeing you there. x