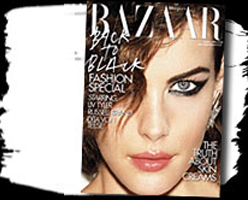 Suspicious about the claims manufacturers make for skincare? Lots of us are. It's very hard sometimes to equate the amazing percentages bombastically declared on product packaging with the actual results. And that leads to a lot of confusion among consumers, who loose faith in brands and products and dismiss their claims as mere marketing spin.
So if you're feeling  fooled, you might like to check out a feature by Newby Hand, Harper's Bazaar's stellar beauty director. In the current issue of the magazine, she goes behind the scenes at Lancome and Clarins and blind-tests two products - one a face cream; the other an anti-cellulite product.
Advertised
The results - and the feature  - are very interesting indeed, making this is an essential read for anyone who's sceptical about skincare.