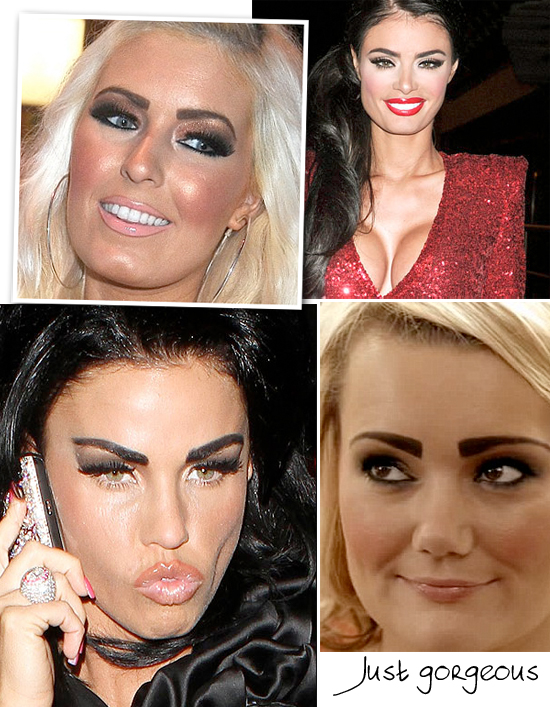 It wasn't just shiny new tellyboxes that had the letters 'HD' slapped on them with the arrival of high definition. Fuelled by the promise/threat that every previously unnoticeable line, blemish, or foundation tidemark on a presenter or actor's visog would now be clearly visible when filmed and viewed through the unforgiving lens of high definition, cosmetic brands began to offer HD-friendly products to cope with the new technology.
Beauty treatments, it seems, are poised to head in the same direction. Forget about simple threading or a mere tint and tidy-up: HD Brows is a seven-step treatment created by UK-based therapist Nilam Patel to ensure that the eyebrows of her celebridee clientele (including Jenny Frost, Cher Lloyd, Alesha Dixon, and, er, Katie Price) were always telly ready and permanently prepped for any pesky paparazzi photos. Brows are waxed, threaded, tweezed, and trimmed into submission, and tinted, powdered, and penciled for added definition.
Expect to hear lots more about HD Brows over the coming months as loads of salons throughout the UK and Ireland are sending staff off for training in the procedure. Is it any cop? Well, Pippa O'Connor and Rosanna Davison are fans this side of the pond and while I haven't tried it personally, I was recently sitting in a salon while a therapist explained what the treatment involved to another client.
Advertised
God bless us and save us, but it sounded horrific. Two words pinged into my mind as I eavesdropped: Scouse Brow! I couldn't hang around to see how it turned out, which I was raging about, but if the therapist involved had her way, this blonde client was going to be wandering out with a pair of black angular lines between her eyelid and her hairline that any Desperate Scousewife would be proud of.
Pass.
Pic credits: e4, hqhair.com, tiskin.com, behindthescenesmakeup.com