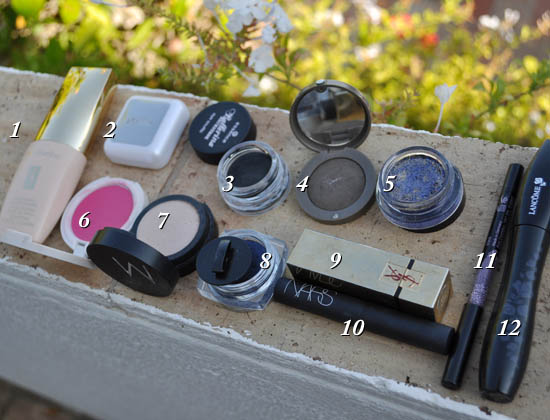 I've shown you some of the hair, body and skin bits plus three instant (well, one not so instant) tanners I took away with me on a short hot weather jaunt recently but here's some of the makeup I packed - in fact it's pretty much all of it. We had one big night out while we were away and I knew I'd want to do something fairly full-on with my eyes.
I'd recently bought one of the new Giorgio Armani Eyes to Kill Intense shadows and hadn't really given it a proper go, so this was its first proper outing. We're gonna take an up-close and personal look at this soon, and compare it to its mass-priced sibling, L'Oreal Paris Colour Infallible.
Elsewise, I also packed:
YSL Perfect Touch in shade 4 (I promise I will do a full review soon!)
Creme de la Mer The Concealer
Giorgio Armani Eyes to Kill Intense in Blue Blast
Topshop Blush in Pinch
Lancome Doll Eyes Mascara (out in July! Loving it! Of course!)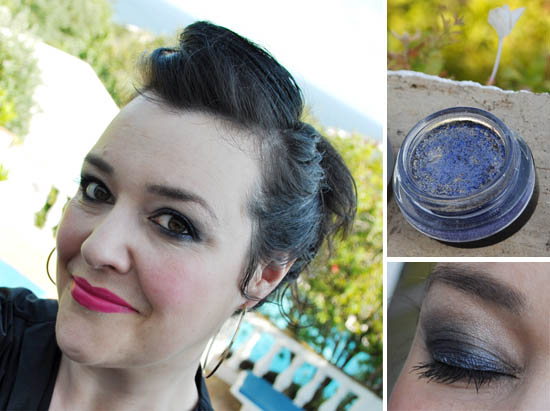 Advertised
Base and concealer are really simple - YSL Perfect Touch and the La Mer concealer where needed - mostly around the eyes.  I buffed on a little of the Topshop blusher on cheeks with a Mac 130 short duofibre brush but I regret to say that most of that pink flush is my own, from the heat. A coral colour would deffo have been a better choice but my rationale for bringing a cream one was it might be nice on a post-sun dazed skin. Not so, clearly!
For eyes, I started with Make Up Store Muffin all over the lid to the brow and then patted a little of Essence souffle in grand-plié in black on the lid right up to the crease but no further. I used that as a key to pretty much stick L'Oreal Paris Colour Infallible in All Night Blue to. It went all over to the crease and I then blended it and outwards.
I also applied a little to the bottom lashline, to about three-quarters of the way towards the nose, making sure to blend it out well too. I then took my pot of Giorgio Armani Eyes to Kill Intense in Blue Blast and laid a stripe of it right into the crease, and blended it well - it's the kind of golden graduated colour you can see in the thumbnail top right. I used the Avon liner on the waterline.
Brows were lightly fixed with Bourjois Little Round Pot Intense in 07 (I am finding this a really versatile little product!) and then a few coats of the glossy lengthening and separating Lancome Doll Eyes and I was good to go. Was this the best smokey eye I've ever done? Nah, not by a long shot. But it was the sweatiest. Oh boy, it was hot - about 30 degrees and I was literally mopping beads of moisture off my face as I was working. Not so conducive to creating the most flawless finish of your life, eh?
Lastly, lips are Nars Carthage first and then just a little YSL Rouge Pur Couture in No7 for some shine - Carthage is matte and I wanted the longevity but also a bit of a satin finish so the pair worked well.
Advertised
What's your favourite holiday makeup?