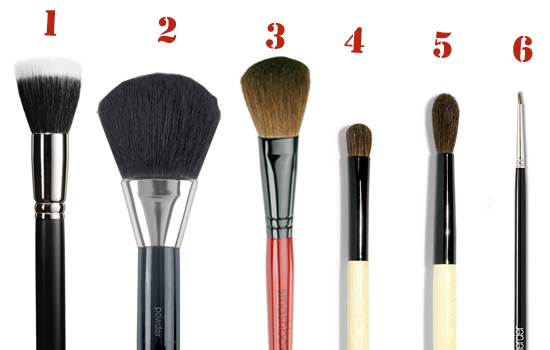 Most gals learn their initial beauty skills from their mums, who teach them about cleansing and applying makeup. But, um, what if your mawww wasn't much cop at it? In an ideal world we'd all get a makeup lesson at 13 and that'd put paid to Orange Foundation Tragedies of The Teenage Years, but life ain't like it.
I needed a makeup artist to tell me exactly what brush was meant for which bit, and I'm sure I'm not the only one.  It didn't really fall into place exactly what a blending brush was and what you used it for - even though I owned one - until it was twiddled about and explained. Suddenly, things were a whoooooooole lot easier.
So, you can go to town with brushes if you want, but you should be able to get away with five or six - five if you're not into bothering with a foundation brush.  What do you need for a basic kit, and where do you use each one?
Advertised
One of my personal faves: the MAC 187. This can be used to buff on liquid foundation (pump it onto the back of your hand, swirl the brush through and then apply to the face using circular motions). At €45 it's not cheap, but can be used dry for bronzer and blush too
Next up, you'll need a powder brush. No honestly, you down there at the back, that manky sponge will not do. They press product on unevenly and give a caked finish, whereas a decent brush will apply a whisper of product for a flawless result. This baby is €67 from Space NK, which is a shocker of a price, but many brands will do a decent one a lot cheaper too, so don't panic just yet
Number three is also an essential - the blusher brush. This is a Smashbox #16, and it's €38. It has lovely soft bristles and applies blusher perfectly. You can also double it up for bronzer
Eye brushes are the ones most women find they're confused about, but you can get away with buying three. I love Bobbi Brown's offerings and first up is her Shadow Brush, €34.50. I use this to place shadow on my lids, just up to the crease (where the lid ends and the bone begins above the eyeball)
Then I smooth the hard edges out with her Blending Brush, also €34.50. I place the tip at a 90 degree angle to my eye and move it using a circular motion to blur out the product I applied with the Shadow Brush. That gives me lovely professional looking peepers
Lastly, I'd also invest in a liner brush - I have a few of these, and this Laura Mercier one, €30, is perfect for gels, creams and dry shadow.
Brushes are expensive, there's no denying it. But they are an investment and cared for properly, should rarely need replacing. In fact, I have only ever replaced two and one was because I lost it. The other came a cropper with the side of a filthy cooker in a Pontins chalet and so was abandoned in disgust. We shall draw a veil over that sorry episode.
The upshot is, they're worth it. Buy one a month, and very soon you'll have a working kit of brushes you'll wonder how you ever lived without.