 We asked model, TV stylist and bargain hunter extraordinaire, Gail Kaneswaran, about her style, current fashion loves and where she finds her best bargains.
"She's a little bit of everything to everybody" my mother used to say about me and that phrase does describe me and my style. I really do love a little bit of everything.

I currently work in the world of fashion and I have done for over 20 years now. From modelling on both the Irish and international scenes to working as a model agent, TV stylist, writer, and now for hot new fashion app Frockadvisor, my job has taken me on an exciting journey. I love meeting folk of all levels of glamour and style and I'd say that I'm somewhere in the middle. I don't take it or myself too seriously; my style is relaxed and fun and never ostentatious. I love a good splurge like anyone else but thanks to my two children, it's normally just down the road to Penneys.

In a world where the most common accessory is an iPhone, you don't get the longevity out of your investment pieces. I remember I used to be able to wear a dress to one wedding, and then to another the following month with a different circle of friends but not anymore - thanks a million Instagram. And while I do keep my eye on what's on trend, I'm not a slave to fashion. In the words of Coco Chanel, 'I'm for style, fashions change too quickly.'
Over the next few weeks, I would like to show you some tips and tricks and to share some behind-the-scenes secrets. I like a bargain basement find but I absolutely love boutiques. I have a busy lifestyle, with two jobs (working as a model and for Frockadvisor as Boutique Liaison), two children, and too many meetings in my diary. 
My wardrobe is like a revolving door. I spend half my week visiting the most stylish boutiques in the country so I can't go around without putting something stylish on me but it doesn't have to cost a fortune. I do it by being chic on the cheap. It just means being clever, ladies, and I am going show you how.
Advertised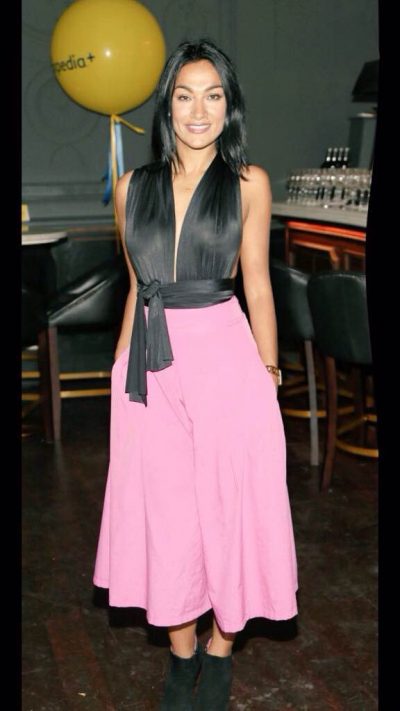 Here's an outfit that I wore to a recent event and it's one of my go-to outfits at the moment. I'm loving palazzo pants; they are so comfortable and stylish. I bought them first in navy; I picked them up on my travels doing boutique social media training with my day job and then I also picked them up in pink because it's the summer and why not! These are available in Love Cherish boutique in Charleville in County Cork,and at Boutique Ladybelle in Abbeyleix for €75, but the pink I found at a sample sale for €10 at The Showroom just off the M50 in Fashion City. They have a website and always post on their Facebook about their sales that are open to the public.
I love this look because you can dress it up or down and I reckon they would be fabulous with a white vest and espadrilles for that relaxed holiday look. Here I dressed them with black boots and a black dressy wrap-around top from indie boutique Catch in the Ilac centre. I definitely recommend going for height with them though as they have a tendency to look frumpy with flats.
The boots are from Buffalo in Exchequer Street in Dublin but I bought them in a charity shop  for €5. I'm addicted to charity shops and I don't care who knows it! I love mixing my splurges with my saves in an outfit. I love to bring bags to them when I'm clearing out my wardrobes and I love to search through them for pre-loved designer finds. This whole look cost me €40 for new and preloved, and I accessorized with a black LK Bennett bag from designer consignment store Ruby Ruby in the Royal Hibernian way in Dublin's city centre.
Wardrobe clearouts are so satisfying and the one piece of advice I always give is to go through your wardrobe with trends you like in mind and to pull out things that you really haven't worn or haven't been able to fit in to since the noughties, and charity shop the hell out of them. Then go shop with a clearer idea of what you have in the wardrobe and update your style.
Advertised
It doesn't have to cost the earth to be stylish and unlike fashion it's forever.
What boutiques around the country do you love and what's your best find from a charity shop? And Gail will be back with us next week to tell us how to avoid ever meeting your style doppelganger at a wedding or event. Now to the comments!