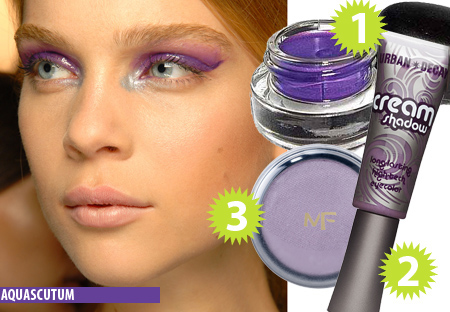 Catwalk-led beauty trends have been a bit schizophrenic this season: usually spring/summer heralds the arrival of a lot of colour and glowy skin, and while we did see that coming through in cosmetic collections, we also saw a lot of stuff I'd generally associate with winter - smokey eyes, for one.
The brights trend is big too, and it's one I like a lot, being  a bit of a more-is-more gal. MAC worked lilac well at the Aquascutum show where models walked it with clean skin, bronzed cheekbones and nude lips, meaning eyes were the focal point.
The brand reckon it's a futuristic take: "lilac now has an edge rather than any bridal connotation", they say, and yeah - I agree, because it's all in the application.
Advertised
While this is a look that's been ramped up for maximum impact on the catwalk, it's easy to translate it into something we can all wear:
Rule one: avoid shimmering pastels from lid-to-brow and instead apply a thick, graphic swipe of lilac liner, brought out to a cat's eye flick.
Rule two: add eye gloss - but only if you want to. Hint: only apply gloss on the area of the eye you can see when eyes are open, as that way it won't smudge everywhere.
Rule three: For day, forego it, but a dab of metallic shine or pigment on the inner corner make this a great night-time look.
So, what'll you need? I'd plump for MAC's Fluidline gel liner in (1) Iris Eyes, €17, which makes flicks a cinch. You could also check out Urban Decay's new Creme Shadows -  (2) Delinquent, €15, is ideal. More of a shadow fan? Max Factor's Earth Spirits shadow in  (3) Lush Lilac, €5.99, can be used wet or dry.