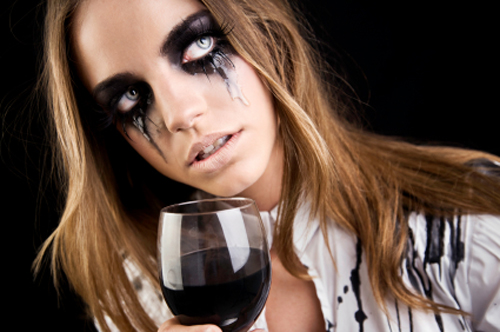 "Yeh wha", is what I am sure a lot of you are thinking, but bear with me: summer calls for a bit of sexy shimmer and shine, and one of the easiest ways to get light-grabbing sultry peepers is with a bit of eye gloss. It's bloody hard to pull off though and as it's such an editorial look, this is not for everyday.
Rimmel had a line of glosses for eyes a few years ago and I bought one in black, slathered it over a smokey eye and sat back to await the scads of admiration that would surely come my way. Well, if Alice Cooper had been the look I was after, sure, I'd probably have bagged a job as his personal makeup artist.
As it was, I learned the greasy, slippy, hard way that a light hand is what you need with this stuff, and you have to be very sparing with it too.  While you can buy dedicated eye glosses from brands like Lancome and Miss Sporty, makeup artists tend to just use a clear lip product instead, but obviously make sure it's not a plumping one. Oow.
Advertised
Here's the key to application: no matter whether you're applying it over shadow or on a bare lid, only use it on the part of the eyelid that's showing when the eye is open. That way, you'll ensure the light hits your eye for maximum sparkle, but the gloss won't transfer (too much) on to the rest of your makeup.
Lastly, remember this is a special occasion kind of thing, best kept for night or for those times when you're not expecting your face to last the entire day (or even, entire hour).