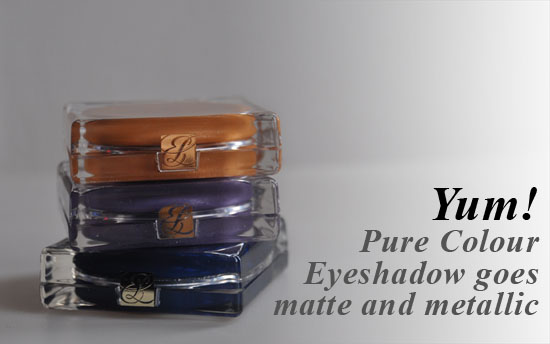 Here's the first thing I like about Estee Lauder's Purecolour eyeshadows: the packaging. Tell me those chunky perspex cases above with their curvy coloured insets don't put you a little in mind of a delish Laduree macaroon? A squashed, plastic-encased one, mind, but still - any product that looks like sweets equals one I want to own.
The second thing is beneath the lids, the shadows are good, medium-pigmented and just very reliable yokes to have lying about your makeup kit. At the end of March, they'll get even better, because there's a limited-edition collection coming out which'll contain seven  matte shades and five metallics.  The brand sent me three to check out - above you can see, from top down, amber metallic, amethyst metallic and nautical matte.
Wanna see what they look like on the inside?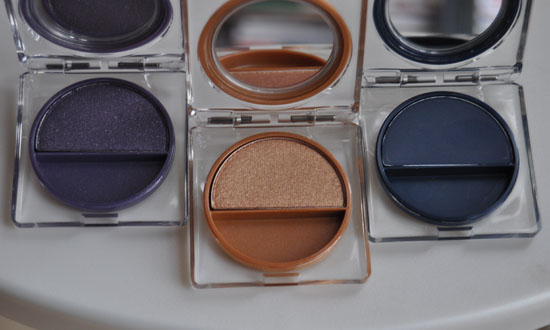 Advertised
Lovely, eh? Metallics have a soft, shimmery finish and blend well. The matte shade, which I reckoned might be the most disappointing, as these can be chalky and hard to use, is in fact really lovely - smooth in texture and well pigmented.
Now, here's a caveat. This is Estee Lauder. This is a brand for laydees. This is not Urban Decay and therefore when EL say 'metallic' they mean a lovely shadow with very understated sparkly bits, which actually makes these really good for day wear - layered over a darker base the purple would also be great for night.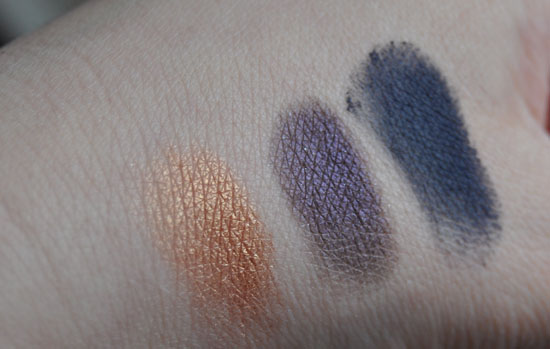 And here are the three on my paw - I did a metallic purple/gold eye with these the other day and was very pleased with it altogether.
These babies, along with their other new matte and metallic stablemates, will land on March 29th and will cost €20 a go.