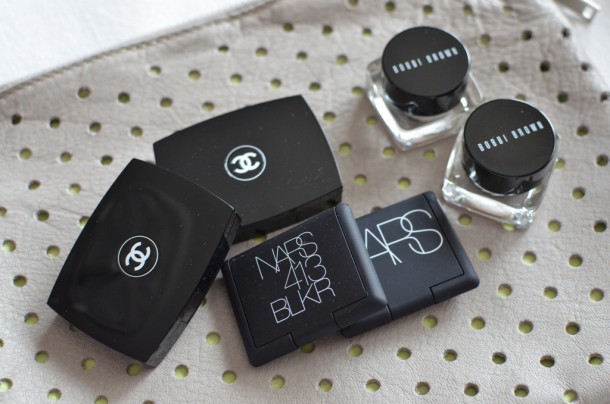 We all love a good nose into someone else's makeup bag, don't we? So today I'm giving you a look at some of my favourite eye shadows. Two Long Wear Cream Shadows from Bobbi Brown, two Ombre Essentielle single eye shadows from Chanel and two Shimmer eye shadows from NARS.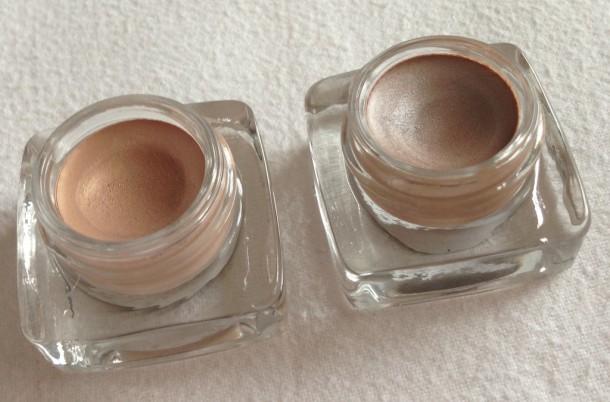 The Bobbi Brown cream shadows (€24) in Sandy Gold (on the left above) and Sand Dollar are my go-to easy eye makeup for summer. They are quick and foolproof to apply (I pat them on and blend with my fingertip), last all day without an additional base and the colours are easy to wear for a clean, neutral look. Sandy Gold is slightly warmer - a champagne beige shade with gold shimmer and a slight hint of pink. Sand Dollar is a cooler taupe with silvery shimmer. Both give a lovely glow to the eye area and are the ideal choice when I just want to even out the skintone, hide any redness and wear a wash of light colour.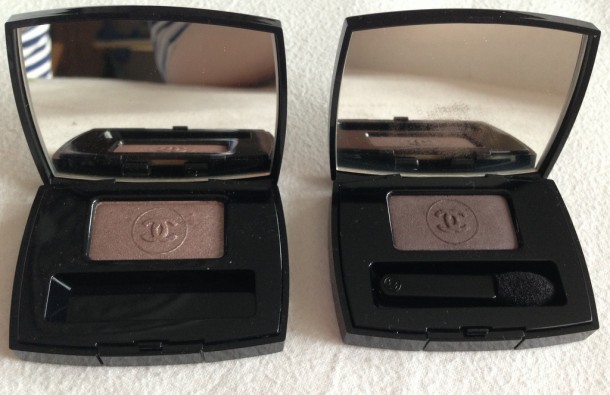 Chanel's Ombre Essentielle shadows (€27.50) are at the pricier end of the scale, but they are lovely. Taupe Grisé (on the right above) is a lovely, deep shade. A grey-brown taupe with a lovely sheen, this one is really buildable for a smoky eye, or blend out a light application for a more subtle look. Fauve is much lighter - a sparkly mauve-taupe with silvery shimmer. I like it for an everyday look with some black liner, or shade it over a darker shadow to add a bit of sparkle.
Advertised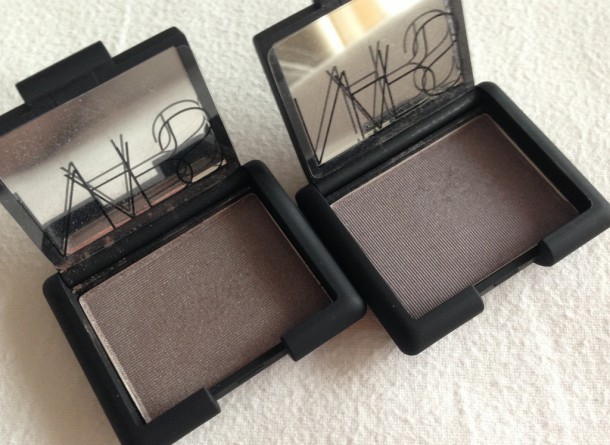 The NARS Shimmer shadow (€25) formula is gorgeous. The fine texture is buildable and the shimmer gives a subtle glow. Lhasa (on the right above) is a cool greyish taupe (you can see the theme here by now, but I swear each taupe I own is different enough that I need it) that is perfect for everyday wear as well as making a good base for stronger looks. 413 BLKR is a lighter dove grey - the perfect wash of cool when I don't want much colour (and my favourite to pair with navy liner).
Do you own any of the above? Any other shades you'd recommend? Want to chime in with your love of taupe? To the comments!