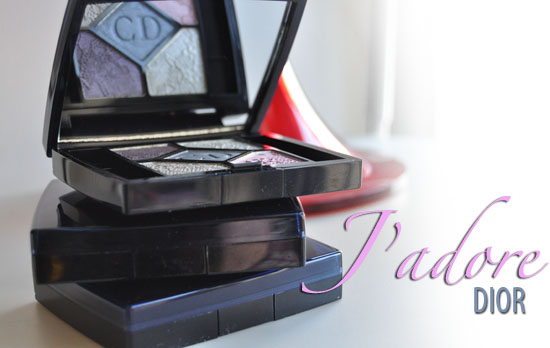 Everyone's got a favourite brand for eye shadow, and while I know it's pretty much a beauty bloggin' law that you've got to say Mac, beyond one or two of their shades I've fallen for, the brand is not a fave of mine for shadow.
I have a huge amount of love for Dior, though. Their Five Couleur Palettes are quite simply superb. I can honestly say I don't love the packaging - it's a little Mammy - but I do really, really like what's inside. Up top you can see Five Couleurs Edition Dentelle from the current spring look, but these boyos actually come in three types: Five Coleur Eyeshadow, Five Couleur Iridescent and Five Coleur Designer.
So what's what? Essentially, they're all very similar - Eyeshadow features five colours and textures, Iridiscent houses quintets of pearly, metallic-finished shadows and Designer has four shadow textures and a cream liner.
Arranged into colour families, and supplemented by regular seasonal collection-based limited editions, there are absolutely tons of these available. I have about six, mostly in metallic greys, silvers, blues and navys, and I should I have to suddenly up sticks and take only one brand of shadow with me, I could happily get by on Five Couleurs alone.
Advertised
They're creamy, pigment packed, super-blendable and have great staying power. The only dud note is the range isn't too hot on pure mattes, everything seems to me to have a little shimmer. I'm not wildly bothered really as textures are so creamy it's a small niggle.
It's not just me who's a fan. Before Christmas I talked to makeup artist Christine Lucignano - who regularly contributes to The Gloss - about her favourite products, and she said "I think the five-pan shadows from Dior are gorgeous. Chanel shadows are my watercolours, but I always call Dior my oil paint. Fantastic."
Do you like looking around inside my stash? Would you like to see more of the things I use and love? Or do you hate it and just want to know about what's new and fab? Let me know in a comment.