 Clockwise from back left: Chanel, Estee Lauder, Lush, Giorgio Armani, Maybelline
I love a good nosy into other people's makeup bags and today I thought I'd return the favour and give you a peek into mine. I like to try out a lot of different colours and textures but earthy shades of green and bronze are super flattering on brown eyes, so that's what I keep gravitating back to. This little lot are on heavy current rotation:
Chanel Illusion D'Ombre Long-Wear Luminous Eyeshadow in Epatant
I love everything about these whipped mousse eyeshadows from Chanel: formula, packaging, pigmentation, wear-time...it's all sublime. This one is a shimmering silvery green and a bit more versatile than the sparkly black and sheer gold that I also own. They're €28 but I've picked all three of mine up in duty free, and saved a few bob that way. I don't think I'll be happy till I've collected them all - check out some of the other shades here.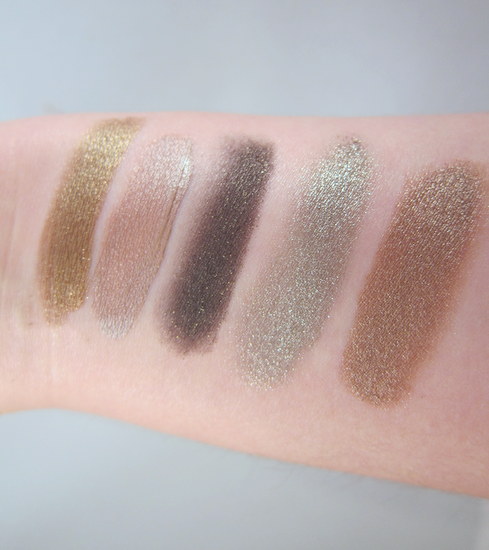 L-R: Armani, LUSH, Estee Lauder, Chanel, Maybelline
LUSH Emotional Brilliance Eyeshadow in Sophisticated
I was surprised by the steep €17.90 price tag, but more surprised by how very, very good these cream eyeshadows from LUSH turned out to be. This one, Sophisticated, is a great wearable, everyday shade that blends effortlessly and lasts all day. The cute little bottle comes with an inbuilt applicator that's ridiculously easy to use, and the pearlescent taupe shade should flatter most peepers. Read more on the range here.
Advertised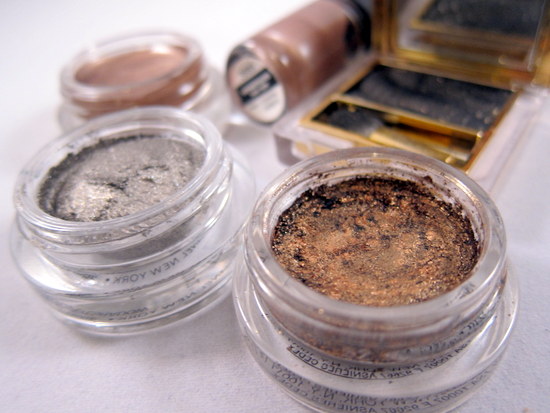 Giorgio Armani Eyes To Kill Silk Eyeshadow in #24
If I thought I would actually bother with makeup while shipwrecked, this would be my desert island product right here. These cream/powder hybrids are gorgeously complex shades that give depth, dimension and a completed eye look in seconds, and with just one product. This one is a warm smokey copper and yes, it's €26, but it's just divine. Read more here.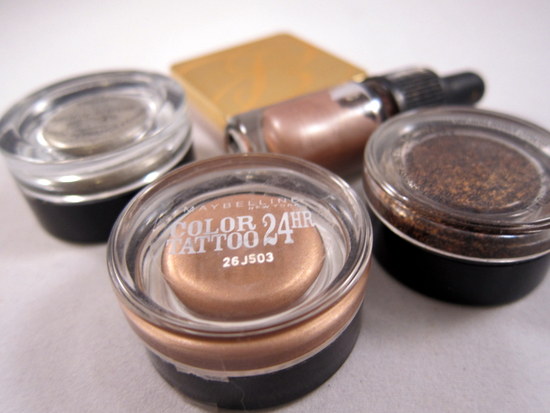 Maybelline Colour Tattoo in On and On Bronze
A bargain at €7.49, these are such a great product: they go on easily (apart from the purple one; avoid!) and last all day. I love the grey and the taupe too but this one seems to have more slip and I find it easier to apply and blend. It's lovely alone or as a base for powder products. Check out our full review.
Estee Lauder Cyber Green Eyeshadow
This blackened olive shade with gold shimmer is a total stunner and my go-to shade for a night-time smokey eye. The formula of these eyeshadows is a little bit special too - they're billed as a 'tribid' formulation so can be used as liquid, powder or gel. Priced at €24 these can also be used wet for a really intense, high shine finish - you'll find more swatches here.
What are your current eyeshadow faves, and what can you not live without? Share 'em in the comments!
Advertised