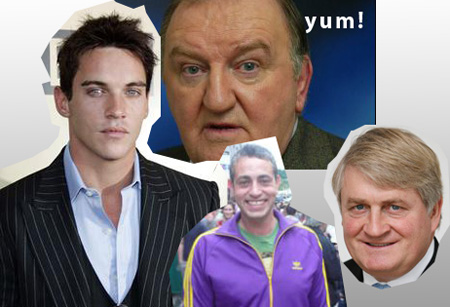 Ah we all need a good laugh to cheer us up on a Monday, so here you go.
The totally bizarre and seemingly arbitrary results of S&Ps sexiest Irish men makes for some interesting reading...
Anyhow, on to the results. I've refrained from passing any comment although several million of them did pass through my mind. All I will say is: judges what the hell were you thinking? And on what criteria did you measure said sexiness by? I demand a recount. Marty makes it on to the list - but no Pat?
1. Baz Ashmawy
2. Jonathan Rhys Meyers
3. Niall Breslin
4. Jamie Dornan
5. Dave Fanning
6. Colin Farrell
7. Michael O'Leary
8. Brooke Gilbert
9. Pierce Brosnan
10. Garret Tubridy
12. Craig Doyle
[polldaddy|1352589]
Advertised
Just fill in the gaps with tons of people you've never heard of and who have been randomly selected based on mystery criteria.
15. Paul Martin
16. Dermot O'Leary
17. Mark Little
19. Ryan Tubridy
20. John McGuire
21. Larry Mullen
26. Shane Davey
33. Daniel Day Lewis
34. Diarmuid Gavin
36. Stuart Townsend
42. Aiden Gillen
46. Eddie Hobbs
53. Paul Rankin
54. Stephen Gately
56. Ronan O'Gara
58. Dermot Desmond
62. Denis O'Brien
63. Bill Cullen
66. Tom Dunne
71. Matt Cooper
79. Paul Costelloe
82. Nicky Byrne
85. Micheál Martin
86. Brian O'Driscoll
88. Marty Wheelan
92. Christy O'Connor Jnr.
95. George Hook
96. Gary Lightbody
100. Ray D'Arcy