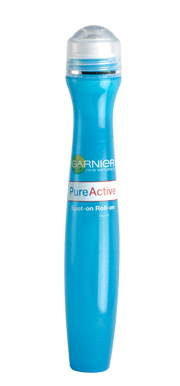 I've been having a gander the new Pure Active line of zit-zappers from Garnier, which includes products that sebum- and spot-prone gals will like. It's difficult to find decent - read, non-harsh - products for oily, pimple-prone skin at this end of the market, so this is a welcome launch. While there's alcohol in the mix, it's mitigated by their Herbasooth complex, derived from blueberries.
There are products for washing, scrubbing, toning and moisturising, and one that looks very like their existing green Eye Roll-on, which I like because of its gadget-tasticness. Not too sure if it actually does anything, but how and ever. The new blue roll-on is called Pure Active Spot-on Roll-on, and it's designed to be a targeted treatment for pimples.
But given the fact it contains 2% salicylic acid, I got me to thinkin'. This is the stuff that's in products you use to tackle the ingrowns you can get from waxing, shaving or epilating, and while I'm not sure if the concentration in this product is high enough to tackle the bikini line, what I do know is salicylic acid is really effective at treating ingrown hairs as well as spots. That's because it's capable of exfoliating deep down, so it can help to clear gudge and guck out of follicles, and it'll also dry out wet, infectedy areas like whiteheads.
Advertised
Fancy trying your luck and seeing if it's up to both jobs? Pure Active Spot-on Roll-on is available now for €10.49 - a mite cheaper than the cost of Bliss' Ingrown Hair Eliminating Peeling Pads, eh?