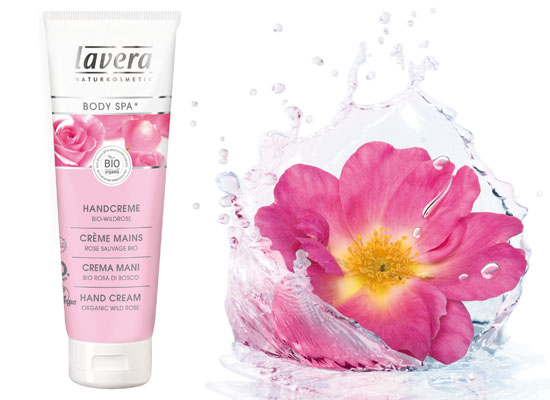 Lavera is a brand I haven't really had much life experience with to date. Oh sure, I know that its offerings are organic and vegan and meant to be good for rosacea sufferers and that it does a nice line in physical sunscreens and aftersun, but up until a couple of weeks ago I hadn't actually tried any of the brand's stuff.
However, myself and Lavera's Rose Garden Hand Cream, €6.95, have been doing a line for the last little while now. Things started well enough, and it all looked very promising. I was impressed with its ethical, tested on (willing!) humans pedigree. I liked that it was comfortable enough in its sexuality not to shy away from  wearing pink.  I thought it felt very rich in my hands, but was thrilled to find that it was quickly absorbed and secretly thrifty so that I only needed to use a small amount.
Ultimately, the way it made me feel (silky smooth) and the fact that I knew it was in the relationship for the long haul (each application left me with moisturised paws and cuticles until I next had to wash my hands) weren't enough for me. I should have seen the signs, really, because despite how good they are for the skin I absolutely cannot *bear* the smell of roses from things that aren't actually, well, roses.
Advertised
In my house, rose-scented candles are strictly for outdoor use only. And rose-scented cosmetics, skincare, bodycare, even handcreams, as it turns out, make me feel a little bit nauseous. It's not that this handcream smells of some synthetic, sickly sweet rose scent or anything - it does genuinely smell like real roses - but the writing was on the proverbial wall.
There was the usual "it's not you, it's me" spiel. I even revisited it a couple of times, just to be sure to be sure, but we had to part ways in the end. For me, there was no getting over that odour.
Last I heard, it had shacked up with Mam...