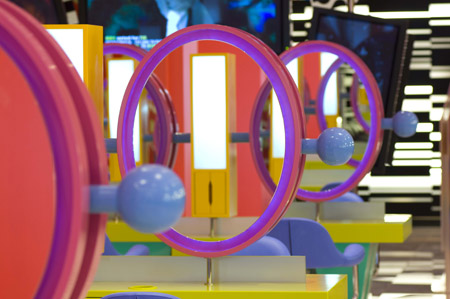 I popped into Peter Mark's new training academy late last week. Located in the old Bruce College building, and adding to South William Street's already excellent mix of salons, beauty boutiques and cafes, it's a real find. And not just in hairdressing terms. I walked into the downstairs space - to open as a salon called the Style Club in late October - and quite literally, had the breath knocked out of me.
An expanse of Warholian dayglo, geometric decals, walls of convex mirrors and incredible fittings greet you. It's like Karim Rashid went to Miami's South Beach, mixed it up with the 1980s Memphis design movement and added in a few club-kid references to boot. Oh my god, are you getting the sense I loved it? I could move in tomorrow - bear in mind now that my ideal house would be the set of A Clockwork Orange. But this place pulls off what could have easily been a decor don't with huge aplomb, and that's down to the skill of its design team.
So that's the salon - I am now never getting my hair cut anywhere else - but there's a lot more to this building. No expense has been spared - €10 million was spent on the refurb and it's been put to good use. The training floors are huge, airy and  full of fab looking equipment and fittings, and even the staff canteen made me madly jealous - great wall murals, fashion tv a go-go on LCD screens and internet points for staff on breaks.  Art by the Angry dudes adorns each landing and the whole place is just absolutely top-notch.
Advertised
It's not just about the decor, of course. New Redken hair treatments and a new method of highlighting are going to be among the offerings rolled out in the Style Club salon, and I am honestly dying to get in there and give it a whirl.
Watch this space!