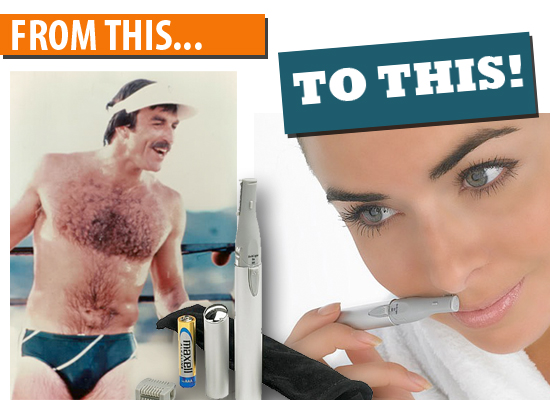 It's the Beauty Wand! It's from JML! And just like their surprise hit of the year, the Ped Egg, it might just prove to be another indispensable gadget.
So what does it do? Well its a little pen sized gizmo that quickly buzzes away unwanted facial hair. It's kind of like one of those nose yokes that fellas stick up their nostrils. See what Twenty Major told us on the subject of sprouting.
Now I know it's not ideal. No I know you won't get a good eyebrow shape with it. Yes I know all these things - however it just might come in handy for those times when you think - YIKES! I've turned into a Yeti overnight.
Advertised
And don't underestimate the ability of hair to grow suddenly overnight. Believe me it happens. You go to bed the night before, thinking the eyebrows or the tache situation isn't too bad and can certainly wait for the weekend, when you'll have time to sort them out properly. The trauma the next morning when you realise the hours of slumber have turned you into Magnum PI can mark you for a long time.
Not recommended for regular use though as it's just like shaving and will leave you with stubble. Use it to keep things neat and tidy in emergency situations.
So what do you think? Are you a fan or not?