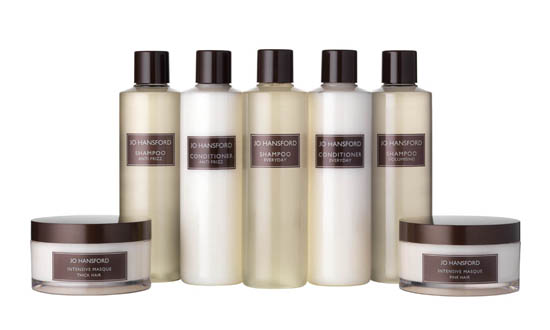 A few weeks ago I mentioned I'd had my nails painted with Marina Sandoval, a manicurist at top London hair salon, Jo Hansford. While Marina was over here on Bourjois' dime, I looked into her place of work after we'd met. The place sounds amazing: Mayfair-located, perfect colour is their thing - American Vouge has designated Hansford 'the best tinter on the planet', and Simon Le Bon's missis, Yasmin, swears by her.
Oh - did I mention that there's organic in-house catering and you can bring along your dog too? Yup, s'all true.
Needless to say, the salon's new line of hair care products, which went on counter at Harvey Nichols in Dundrum at the end of last month, is another extension of her colour expertise (which you may find you need if you've succumbed to a DIY dye job). A carefully edited suite of seven products, containing UV filters (very important for keeping colour looking great) and sustainable ingredients, these will be a boon for anyone with dyed hair.
Hansford knows that just because you've got chemically-treated hair it doesn't mean that you and every other gal with highlights should be treated the same. So alongside everyday shampoo and conditioner, there are anti-frizz and volumising products, and two masques, including an intensive masque for thick hair.
Advertised
I've been checking out the anti-frizz shampoo and conditioner, and I'm liking: rich, creamy formulas are keeping my furze-bush-alike (albeit not actually colour-treated ... yet) mane in great nick. Add a lovely grapefruit scent plus simple, elegant packaging and these are current shower staples.
Price info after the cut.
Jo Hansford Everyday Shampoo - €16.50
Jo Hansford Everyday Conditioner - €18.50
Jo Hansford Volumising Shampoo - €16.50
Jo Hansford Anti-Frizz Shampoo - €16.50
Jo Hansford Anti-Frizz Conditioner - €18.50
Jo Hansford Intensive Masque Thick Hair - €29
Jo Hansford Intensive Masque Fine Hair - €29