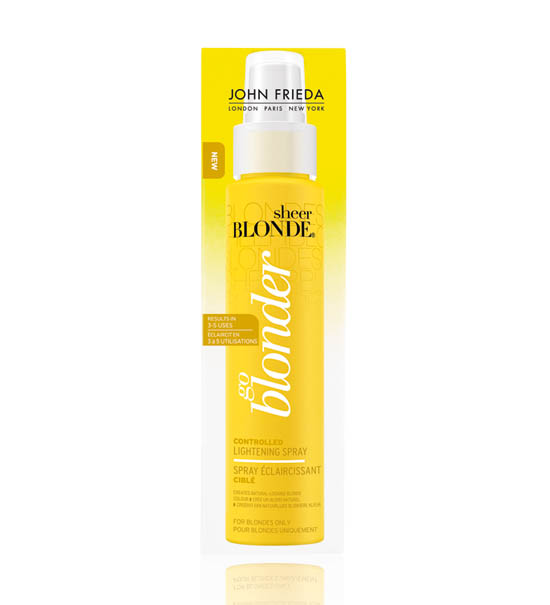 It's taken several viewings of the print and (bloody awful) telly ads, one trip to Superdrug, and two visits to two different Boots, but eventually I decided to bite the bullet and buy the shiny new John Frieda Go Blonder Controlled Lightening Spray, €6.89. However, I haven't actually used it yet - and not just because I put the "pro" in procrastination. It's because the things that caused me to dither over purchasing it are still niggling at me, like the warning on the side of the box about not using it on hair that's medium brown or darker - mine is light brown.
I think.
I wouldn't like to discover that it's what John Frieda considers medium brown when it starts to turn orange, though.
I'm also concerned that, despite much being made of the citrus and chamomile elements of its composition, this is a permanent lightener and the second listed ingredient is hydrogen peroxide. With three-to-five applications required before results are visible and use of a hairdryer plus straighteners or tongs recommended after each application for optimal lightening results, I'm kind of afraid that the processed ends of my hair might become straw-like at best, and at worst snap off altogether.
Advertised
The fact that I can't stop thinking it's basically Sun In For Grown Ups isn't helping matters either.
My intention when I saw it first and then eventually bought it was to use the product judiciously from the mid-lengths to ends of my hair to slowly enhance the subtle ombre effect I have going on: it's now almost a year since I last had my highlights done and I am very fond of the look.
In addition to all-over lightening, those braver and blonder than myself can use Go Blonder Controlled Lightening Spray to create highlights - I'm guessing you just fingerpaint them on using a gloved thumb and forefinger, since there are no detailed instructions in the box - and disguise the look of roots.
UPDATE! We had a chat with the brand and here's what they have to say: "The product is only for those who already have blonde hair, as with all of the John Frieda Sheer Blonde and Sheer Blonde Go Blonder Ranges - it works at lightening the hair over gradual use, and is a great in betweener between touch ups, salon visits. It works best for blondes to go blonder but won't work on brown hair at all. So best not to attempt!!" Ok - duly noted and thanks!