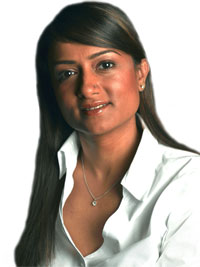 Achieving recognition based purely on your first name is the ultimate indicator of super-stardom: Beyonce, Madonna and Prince need no extra moniker, and it's no different in the business of beauty. Even Pat McGrath has to add her surname for us to nod knowingly, but Shavata does not.
As a threader-extraordinaire, she's built a thriving business in Britain over the past twenty years. This lady doesn't look like she's spent two decades alive, so I can only assume that she was a prodigy who started her business at age five. Speaking of that, how did she get into it, anyway? "Oh, I think I can say threading found me, rather than the other way around", she smiles.
For years Shavata's services were the denizen of UK-based 'slebs like Jade Jagger, Trinny Woodall and Elle McPherson, who'd head to her Lash Lounges in-store at high-end locations like Harrods. But since October, there's been a Shavata service in Harvey Nichols in Dundrum, where it's all about eyes. Finally, finally, last week I went out there to check it out.
Handily, the lady herself was on hand to dispense advice and wield the waxed cotton thread. "Right", she said, appraising my untidy brows, "I'm going to totally change their shape, ok?" OK! When you're in the hands of an expert, it can often pay to let them at it - so I did. And they look fab. I hadn't had them shaped in months actually, so was working to maintain (badly) the last threading job I'd had done on them.
Advertised
Like all good pros, Shavata was able to put a really good shape on brows I'd felt didn't have enough raw material left to make any significant difference to.  This is why getting the occasional shaping done is such a good idea - not only is there the advantage of someone giving you their different perspective, but you also get their professional abilities thrown in too. After that, if you're vigilant, you can keep it up at home.
While Shavata won't be on hand in Harvey Nicks on a daily basis, her personally trained brow techs will be. So you can pop in for a quick brow shape for €20 any time you like, or to have lashes applied. Once you've paid for them, application is free - a nice touch.
A word of warning for the shy: there isn't much privacy here - the Lash Lounge is to the front of the beauty hall and right by the leather goods - so if you don't mind ladies who lunch browsing bags while your brows get banished, then you're in luck.
The Lash Lounge, Harvey Nichols, Dundrum. 01 291 0488. No appointment is necessary.