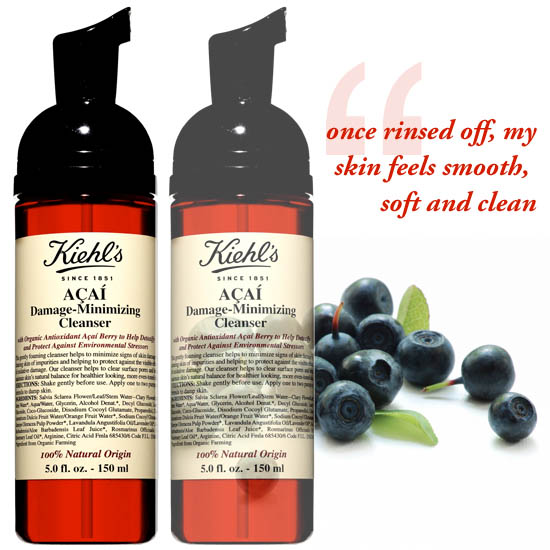 You may have noticed Kiehl's Acai Texture-Perfecting Cleanser when I gave you a peek inside my bathroom cabinet a few months ago. I was using a travel sized bottle I got free in a gift pack with the Açaí Damage-Repairing Serum and I liked it so much I've just purchased the full-sized bottle (€24).
Previously named Damage Minimizing Cleanser, I'm guessing Kiehl's saw some complaints coming down the line about whether a cleanser can really prevent (or even minimise) damage to the skin and so it has been re-labelled Texture-Perfecting.
Packaged in one of those magical bottles that transforms a liquid cleanser into a silky foam through the pump action, Acai Texture-Perfecting Cleanser is the ideal solution to quickly cleanse first thing in the morning, or in the shower.
Advertised
Formulated with the range's star ingredient, the açaí berry, there are vague claims made as to it fighting free radicals, though I'm not sure it will do anything there (you'll need the serum or moisturiser for that). Still, what it does do well is gently and efficiently cleanse the skin, removing dirt and dead skin cells to reveal clean, clear skin.
My skin is fairly dry and harsh cleansers leave it feeling stripped, but this does not bother it at all. There is a mild fruity fragrance, which is not at all over-powering and once rinsed off, my skin feels smooth, soft and clean (I especially like to use this in the morning if I need to wash off an overnight treatment product).
At this price, Acai Texture-Perfecting Cleanser is not exactly a budget option, but the travel-sized tube lasted me a good two months of regular use, if not more, so I think I'll get value for money from the full-sized bottle. Definitely one to consider if you feel like splashing out (geddit?) on a nice foaming cleanser.