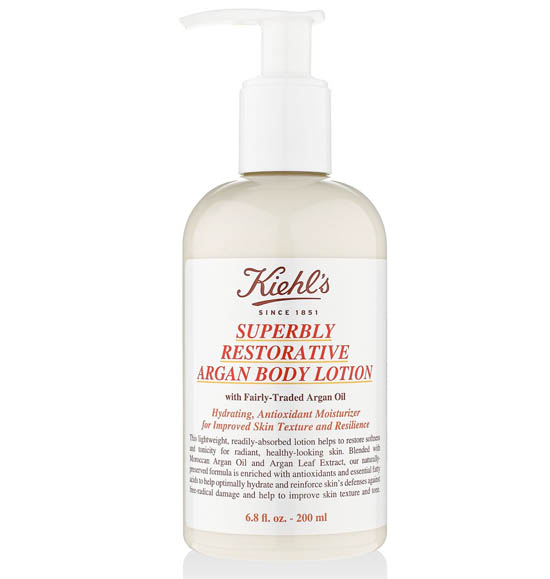 The Kiehl's shop on Wicklow Street in Dublin has drawn me inside more times than I care to count since it opened last year and it's the type of place where I almost always find something to buy. On a recent visit, their Superbly Restorative Argan Body Lotion (from €34 for 200ml) made its way into my shopping bag. Argan oil has been creating a buzz in the beauty world for some time now, but despite my interest, I think this is actually the first product I've tried which contains the famed hydrator.
Combining argan oil, with its essential fatty acids and argan leaf extract for an antioxidant boost, Superbly Restorative Argan Body Lotion promises to improve skin texture and tone, while hydrating and reinforcing the skin's defences.
My first surprise with this lotion was that it didn't have the same luxurious texture as a rich cream like Kiehl's Creme de Corps. Obviously it's not the same product, but despite the many plant oils in the formula, this is actually a fairly lightweight lotion that sinks in quickly. This doesn't turn out to be a bad thing - the lotion leaves my skin feeling smooth, soft and comforted and with a bit of a gleam, but without any oily residue or sticky texture.
Advertised
Fragranced with orange and eucalyptus essential oils, applying this is a refreshing experience, but the scent isn't so strong that it would overpower any other fragrance you wear. After a few days of use, my skin does look smoother, brighter and more toned and the annoying keratosis pilaris (those unsightly red dots) on my arms is definitely less noticeable. This isn't exactly a budget option at the price, but if you're looking for a nice treat, it's one worth trying out.