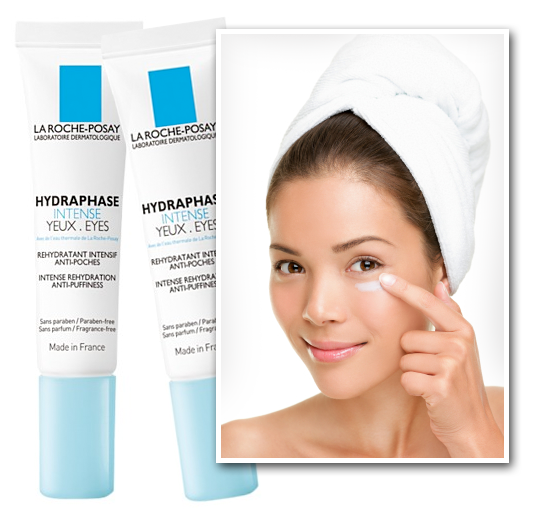 Disaster almost struck when I went away for a few days to Barcelona last week. I'd packed minimally, even on the skincare and makeup front, but had also quite unintentionally left my teeny-tiny sample tube of eye cream at home in the bathroom cabinet. I knew I'd miss it, so went out to look for an alternative the same day we arrived, settling on La Roche-Posay Hydraphase Intense Eyes, €17.50.
Promising to provide intense hydration through the inclusion of glycerin and hyaluronic acid, and to reduce puffiness and under-eye bags thanks to the caffeine and La Roche-Posay's famous thermal water, it sounded like just what I needed to smooth and rehydrate the eye area.
Minimally packaged (as all La Roche-Posay products are) in a slim plastic tube with a narrow nozzle to dispense the product, my first surprise was that this is a clear gel and not the cream I was expecting. The box gives good illustrated directions for how to apply the product, incorporating massage techniques which should help with draining the eye area to reduce puffiness.
Advertised
The gel spreads easily on the skin, but also sinks in quickly, leaving a smooth surface if you're applying makeup over it. It feels very refreshing on the eye area and I experienced no sensitivity from it.
My makeup packing was so minimal that all I wore every day was eyeliner and mascara, but I was pleased to see that Hydraphase Eyes smoothed my under-eye area so well that I didn't even miss concealer. A lot of it is probably to do with the temporary tightening effect the caffeine has, so this isn't going to turn your skin around completely, but the effect while using it is good enough for me.
For long-term use I don't think this would be hydrating enough for me, and I found the effects on under-eye puffiness and darkness to be more apparent than those on fine lines, but I was really pleased with how well it worked on my skin and would continue to use for daytime - alternating with a more hydrating cream for nighttime.