 This was the year of the never ending winter.  The year when it seemed the radiators were never going to be switched off.  And that meant anyone who suffered from dry skin needed a great product that keeps skin hydrated, comfortable, and healthy looking.
Dear reader, I was one of those souls and I turned to La Roche-Posay Nutritic in my hour of need - and it delivered.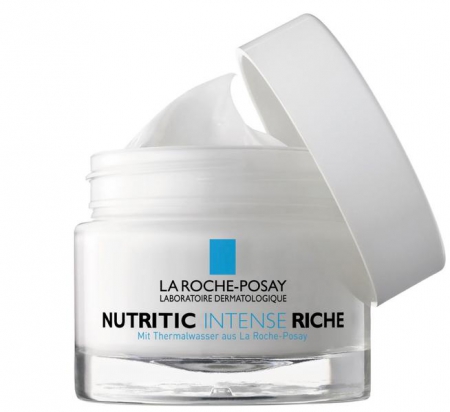 A smooth, dense cream, this moisturiser sinks in quickly and delivers intense hydration.  Because it's unperfumed (good to note for those of us whose skin is irritated by fragrance in products) it smells faintly medicinal.  Almost like Savlon.  And this made me love it more - this was no fancy pants moisturiser that was all style and no substance - this was a great solid product that kept its promises.
Like a no nonsense doctor with a great scientific background Nutritic Intense rolled up its sleeves and got to work on my wrinkles and dry patches.
When my glass jar of La Roche-Posay ran out I was devo, which is very unusual for me.  Because we try so many different products I usually move on to a different brand once I've finished something.  But I haven't moved on from this.  I'm on my second jar
Lots of you were lucky enough to be in the pre launch trial group for this product and you loved it too - the results from the 88 Beaut.ies who completed the survey were outstanding.  93% of you agreed or strongly agreed that your skin felt more comfortable and nourished after use and a whopping 94% of the trial said they'd recommend Nutritic Intense to a friend.
Want to hear a few of the things you said?  Take it away trialers!
You said: soft skin all day
I found I saw instant results with Nutritic Intense. It spread out well and absorbed into my skin quickly leaving it soft, subtle and smooth. I found the effects of the cream lasted for a lot longer than some previous creams I used. My skin felt comfortably soft for the day
You said: great for winter skin
My skin had become very dry in the winter weather and had been embarrassing with visible, dry, flaking patches in certain areas. When I applied the cream there was an immediate improvement - the visible dry patches disappeared overnight.
Although I thought it seemed to be quite a thick consistency at first, it disappears into the skin on application, and is really lovely to use.
You said: it's the ultimate Winter Skin Saver
This cream is a dry skin must - a winter miracle!
You said: great for air con skin
Prior to use, my skin had been so dry and uncomfortable, often feeling very tight. I work as a nurse and often my work environment is hot and not very good for my type of skin. I noticed my skin felt a lot better very soon after I began using the cream. Not as tight, and not as itchy. With continued use, my skin began to look much more healthy. I am only in my early 20's, so my skin is now looking more dewy and and radiant.
Advertised
You said: dry patches cleared up
I had a lot of dry patches before I trialed it and they were gone afterwards. My skin is definitely in better condition. I saw definite results and improvement.
And this one is kind of amazing.  A MAN NOTICED HER SKIN!
Very happy with the result. A male colleague in work commented on how fresh faced I looked
You said: immediate results
My first impressions were... nicely packaged, a lovely light scent and so silky to apply. I definitely had noticeable results immediately!  My skin was moisturised and it didn't look shiny. I felt like the cream was not only moisturising my dry skin but also acting as an invisible protective barrier.  After using the cream, i found my skin to have less dry patches. Overall, delighted with this product!
You said: makeup lasting longer
My skin seems to be in great condition. The product leaves my skin feeling moisturised and never oily or shiny. One of the stand out pros of this product is that my make-up seems to last a lot longer over Nutritic Intense. Nutritic Intense preps the skin really well for make-up application and almost feels like a light make-up primer.
You said: lasting effects
The lasting effects of Nutric Intense have impressed me greatly. Even if I miss using the cream once or twice my skin does not revert back to its previous dry state. I have found that stubborn dry patches and patches of dehydrated skin cleared up quickly and effectively and show no signs or recurring which often happened with previous creams
You said: love from first use
From the first time I used it I loved it. The texture, the way it sank into my skin, the smell, everything!
You said: melts into skin
This moisturiser just melts onto skin upon application and absorbs well leaving no greasy residue that some moisturisers can leave behind and the best bit is a little goes a long way!
Impressive much? Were you in the trial - if you were leave a comment and tell us how you got on.
Advertised
And if you didn't make it to the trial keep an eye out - we have a brilliant giveaway from La Roche-Posay coming up later on!