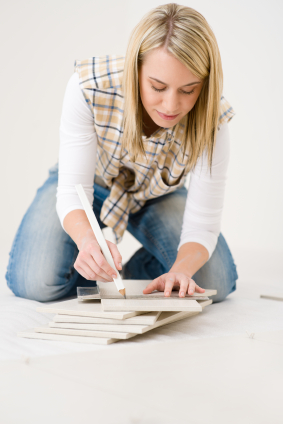 We're getting our bathrooms tiled at the moment. The tiles were picked, delivered and the tiler was ready to start.
"Did you know these tiles are porous?" he asked me before he started to cut them.
"As in - they will stain?" I said "No, they're pre-sealed, that's why we bought them. They wouldn't be much good in a bathroom otherwise!"
But they weren't. He showed how marker left an indelible stain on them - and even pencil couldn't be rubbed off. Now what the hell use would tile be in a bathroom when everything marked them - forever.  What to do? The place we bought them in flatly denied the tiles would mark - even though we were looking at the marks as we rang.
Back went himself in a rage with my makeup bag.
"Mascara stains" he said smearing some of Rimmel's finest over a tile. "Eyeliner stains," he said wielding an Artliner - neither of which would rub off and even the men in the tile shop had to reluctantly admit would be reasonably expected to be used in a bathroom.
Advertised
"You have to clean those tiles with nail varnish remover" said the customer unfriendly manager. "Acetone nail varnish remover."
You have to clean tiles with acetone nail varnish remover? That was a new one on me. But guess what? Thanks to L'Onglex we had a bottle of that too. And guess what else? Nothing was budging off those tiles with any kind of nail polish remover.
New tiles were produced so we could choose a whole new type.
"These definitely won't stain" said yer man.
Out came the Artliner. He was wrong.
Eventually the tiles were refunded after a whole day of hassle. The Artliner had done its work.
Advertised
It was Tile Giant in Fonthill by the way. And no, I wouldn't recommend them.