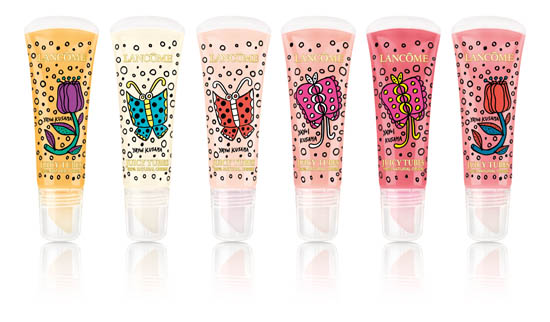 Lookit! Lookit the pretty pixtures and patterns!
Lancome have broken out new designs for their Juicy Tubes line before - Christopher Kane did some fanciness for them back in 08 - and to celebrate the fact that JTs will be TEN (I could hardly believe this myself, and apparently 20 are still sold every minute), Japanese artist Yayoi Kusama has designed six new motifs for a new collection, Natural Origin, due out on April 1st, exclusive to Debenhams stores. Each gloss will be €14.
Lancome made the jump to a natural formulation last year with the Juicy Tubes P.U.R.E line, and these babies continue the theme: 100% natural formulations feature natural-origin pigments to produce wearable honey, rose and apricot shades. Shea butter and honey add all-important emollient and shine to the mix, and the outer boxes are created from eco-friendly cardboard packaging too. Phew. That's a lot of goodness.
Advertised
Want to check out the shade choice? It's after the cut.
120 Pop Art Hazelnut
121 Happy Honey
122 Rose Blossom
123 Dot Apricot
124 Crazy Raspberry
125 Swing Pink