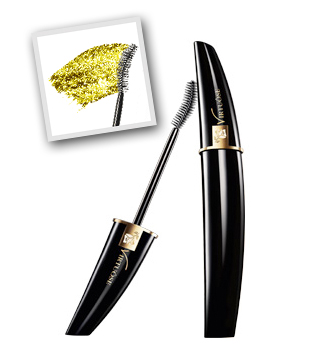 Like a sugar-addicted kid in the proverbial candystore, I was initially in my element when we accidentally (hem hem) stumbled across Sephora in Barcelona over the bank holiday weekend. But, much to my annoyance, they were totally sold out a number of items on my list, including Lancôme Virtuôse Royal Gold mascara topcoat which made me go "ooooooo... oooooh!"  as soon as I opened it and got a load of the gold-flecked indigo blue goodness inside.
The topcoat was released as part of Aaron De Mey's Declaring Indigo collection and I finally got my hands on it last weekend thanks to Debenhams in Newbridge. (Pah, who needs Sephora.) It more then makes up for the disappointment of the Black Carat incarnation of Virtuôse, which I found absolutely rubbish - and very, very watery - compared to the original.
Anyways!
Advertised
Virtuôse Royal Gold is not just a tube of big lumps of gold glitter: the particles are truly teeny tiny and are  in an indigo suspension that goes on really well over your regular mascara, somehow without changing its colour.
The whole confection results in a product that delivers a subtle, elegant glimmer - more than a shimmer, but still not in-yer-face C******** bauble sparkly - and really enhances eyes. I'm really loving it and I think it'd be ideal to crank up any party or special occassion make-up without looking like a complete discoball.
Me, I'll be wearing it at absolutely every opportunity!