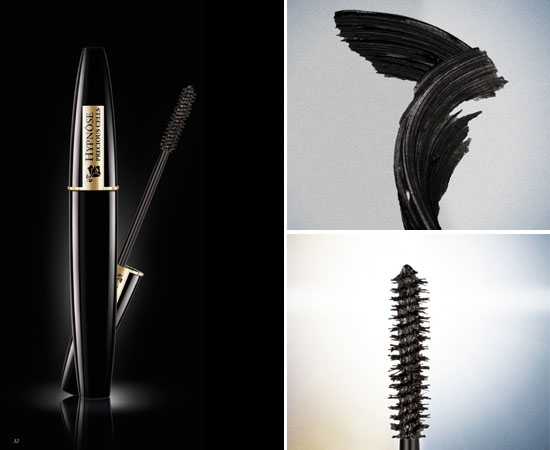 Behold the might of the L'Oreal beauty behemoth - except this time, they're doing things in reverse order. Let me explain: a few months ago L'Oreal Paris launched Renewal Lash Serum and a mascara, and now the technology has flowed upwards to the much posher Lancome brand with the forthcoming launch of Hypnose Precious Cells.
I've rarely encountered a disappointing Lancome mascara and have high hopes for this, even on a purely cosmetic level. Criticisms leveled at its L'Oreal Paris relation were that it was sticky and caused clumpy lashes, so hopefully that won't be the case with this product. So, what does it do?
The most important thing to keep in mind about Hypnose Precious Cells is that it does not cause hair to grow - if it did, it would also be a cure for baldness and a global panacea for panicking men, not to mention a medicine that would need FDA approval and be available only on prescription.
Instead, this is a mascara that regenerates lash condition, supporting the lashes as they grow to allow them to achieve their maximum potential. It uses new technologies and ingredients to do that, based on the phases of lash growth and the extensive knowledge the L'Oreal group has regarding the science of hair - after all, they do own Kerastase, Redken, Matrix and Shu Uemura.
The aim of the product is to deliver a denser, longer-looking lash fringe, which is further aided by the fact the mascara is volumising and lengthening. If this was a product for skin, it'd be a makeup base with potent serum benefits. It makes sense to me to imbue cosmetics with extra benefits, so I'm all for that.
To support the claims they're making for Hypnose Precious Cells, Lancome conducted a consumer trial of 101 women over a four-week period. Want to see the results? They're after the cut.
Advertised
After using the mascara, women said that they'd experienced:
A more intense make-up result: 86%
Lashes appear lengthened: 90%
Lashes appear thickened: 79%
Captivating eyes: 77%
Ok, so these are kind of yeah, yeah, whatever results - I'm sure most women feel this way about any mascara they use,  as far as I'm concerned. I want to know what they thought about their lashes in their naked state, and after a month of use, the subject group said that:
Lashes in better condition:  62%
Protected lashes: 62%
Nurtured lashes:  69%
In addition, 77% of the women reported a reduced loss of lashes during make-up removal.
Much more meaningful results, I think. At the end of the day, this is a cosmetic product, not a medicine, so to over-expect is to be disappointed. Personally, if this gave me lovely, lush lashes after a month and made eyes look great on a day-to-day basis, I'd be happy with the €25.50 damage.
Advertised
This'll come in three shades: black, brown and blue and will land exclusively on counter at Brown Thomas from March 28th, going nationwide from May 1st.