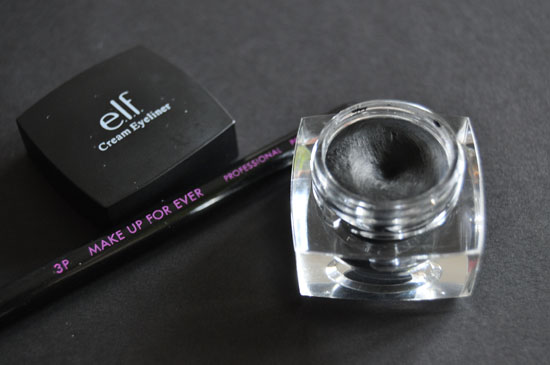 Elf sent us a parcel of their Studio goodies recently and being the swot that I am, I've been duitfully testing and trying away - and here's review number one.
Lets start with all the positives about Studio Cream Eyeliner, shall we? It's an amazing price, at just €4 for 4.7g, with four shades on offer. Packaging is nice - nothing amazingly wow but again, great for the small outlay. What's best about this is what's inside: this cream liner is, well, really creamy, decently black and opaque - so only one swipe is needed for each eye - and goes on like a dream with no drag or awkwardness, which there can be with firmer textured liners. Neither is the texture too wet: in the words of Goldilocks, this is just right.
But it's not all good news I'm afraid. This smudges on me.  Quite badly actually, despite my dry lids, and it had done reverse-clown circles on my upper lids within a couple of hours. Ok, when you're paying €22 for a pot of Bobbi Brown gel liner you would be really frigging annoyed if it budged and that's partly why you do pay a premium - those liners are rock-solid. But for €4, you just can't expect the sun, moon and stars so all that's required here is a lick of primer first to keep this in place, and as far as I'm concerned, that's a decent trade-off within the context of all the positives this product's got going for it. Interested? You'll find it on www.eyeslipsface.co.uk.
Psst: I've been using a Make Up For Ever 3p brush with this, and accidentally left the brush head out of the shot. DOH. It's a lip brush as far as I'm aware, but its small tapered head is great for creating thick cats' eye flicks too and it works really nicely with this liner. Oh, and there's a swatch after the cut 'n all.
Advertised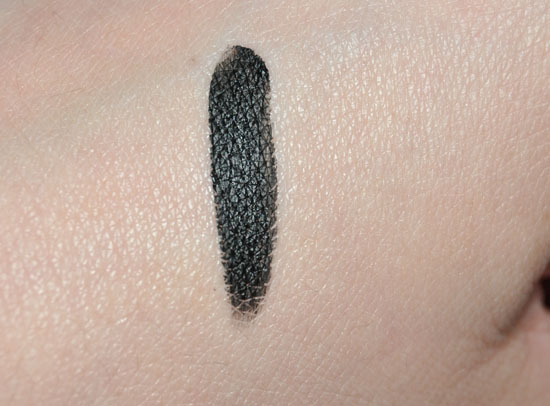 Here's one swoop applied to my hand with the brush mentioned above. Texture's nice, coverage and opacity are fab.