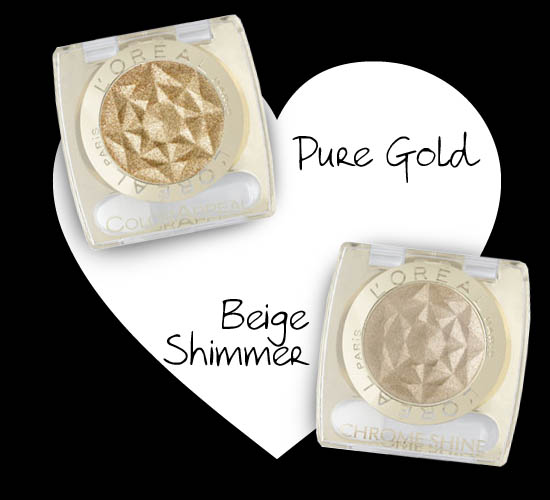 There's not very much to do in Dublin Airport when you somehow manage to be two stupid hours early for a flight to the U.K. of a Sunday night, as the coffee shops and booksellers are slamming their shutters closed. That's especially true if you're flat broke and even the tempting duty free discount of 21% off high-street prices doesn't make the prestige brand offerings any more affordable for your pocket.
Still. At least Boots were on hand with a three-for-two offer to pick me up when I got stuck in that sad scenario a couple of weeks ago. I decided to treat myself to some new eyeshadows that had to fulfill two criteria: they had to be affordable, and they had to be awesome.
The pair of L'Oreal Paris Colour Appeal Chrome Shine Eyeshadows that I settled on as two-thirds of my purchase definitely tick both those boxes. I got Pure Gold and Beige Shimmer, which are lovely: they apply smoothly and evenly, are easy to blend, and there's plenty of pigment alongside the shimmer particles.
Advertised
Beige Shimmer in particular has been getting loads of use, as it's become my go-to eyeshadow for day and for night. A mid-golden shimmery brown that makes the green in my eyes pop whether I'm wearing it smudged into the crease of my lids or built up and smokey, it might just be my most perfect shadow ever.