 Fast becoming my favourite budget eye shadows, L'Oreal Paris' Colour Infallible eye shadows are blimmin' brilliant, considering they cost the very affordable price of €10.79 each. I'd been sent three of 'em as press samples and liked them so well I decided to bag myself another trio what with Boots doing that three-for-two offer. So I thought I'd show and swatch them for you all as they're proving to be so popular in my bathroom.
I know, soul o' generosity, me.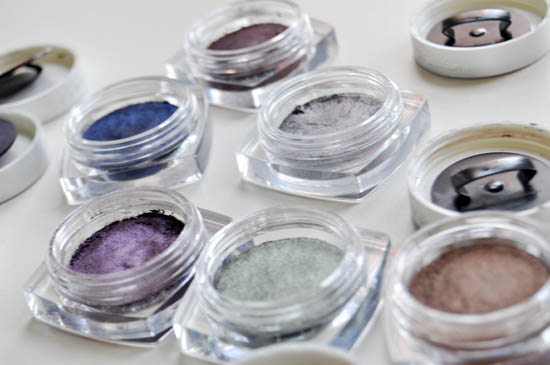 So, these are my six. There are eight available but the remaining two, a black and a copper, don't madly appeal. I've about a jillion blacks already and copper washes me out, so I'll leave it.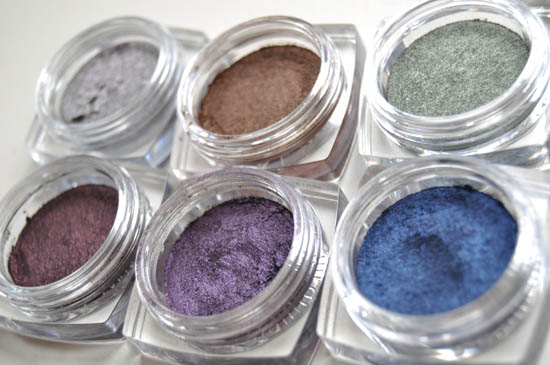 Advertised
The shades I have are (top, L-R) Flashback Silver, Endless Chocolat, Permanent Khaki, (bottom, L-R) Burning Black, Purple Obsession and All Night Blue.
Scrrrrammy, eh? These are a cream/powder hybrid which comes in a generously-sized pot - you get 3.5g of product for your tenner and change, which is two and a bit times the size of a regular Mac shadow, for comparison purposes. These aren't pigments; nor are they liquid or a mousse. They feel really super creamy and I am willing to bet they're very similar in formulation to Giorgio Armani's Eyes to Kill Intense Eyeshadows - except I haven't had a chance to stick my paws into those yet. From pix and swatches on Temptalia, my suspicions grow - and of course, L'Oreal Paris and Giorgio Armani are both part of the L'Oreal Group.
Anyway, back to Colour Infallible. Dense, highly-pigmented and really blendable, these go on best with a fairly firm brush and on my dry lids they last fine. Because they're so creamy, I'd say if you've oil issues, use a primer. The deep shades make for a stellar smokey eye and fallout on me has been mimimal, so I'm happy with that. You can add extra intensity by layering over a black pencil or cream shadow, and the purple in particular benefits from that. All shades are shimmery - so matte fans, beware.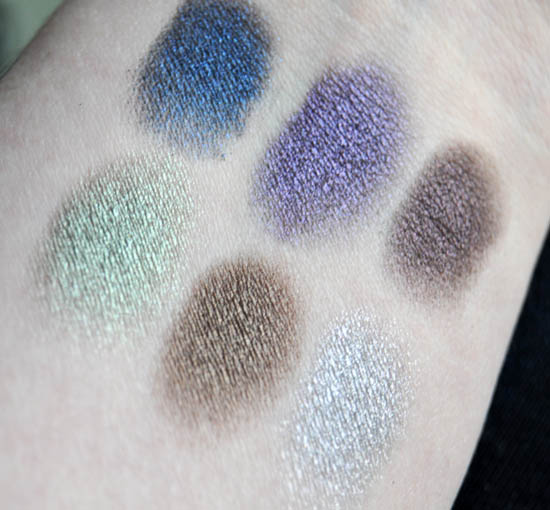 The shades swatch and wear gorgeously - you can use these as a wash or you can really pack 'em on the lid for a lot of colour and blend them out above the crease for a more DRAMZ look. As mentioned, the deeper colours are fab for smokey eyes.  Swatch shades are (top, L-R) All Night Blue, Purple Obsession, Burning Black, (bottom, L-R), Permanent Khaki, Endless Chocolat and Flashback Silver.
Advertised
All in all, I'm really pleased with these - massive thumbs up to L'Oreal Paris for Colour Infallible. So, have you tried these yet - and if so, what do you reckon?