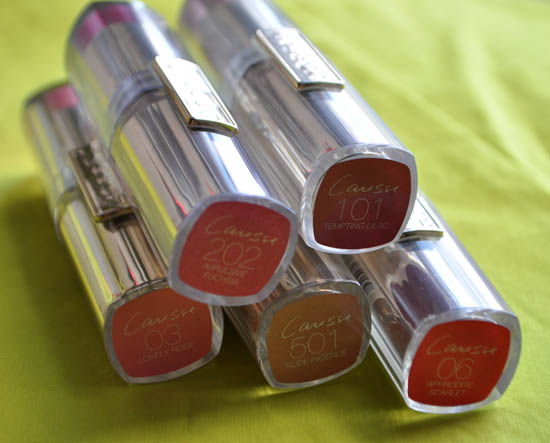 WARNING: Lipstick porn contained herein!
Tell you what the first thing that struck me about these new lippies from L'Oreal Paris was, shall I? Ok, you've twisted my arm.
Rouge Caresse are basically the budget dupe for Dior's super-spendy Addict Extremes. Emma showed us her pair last week and I've had a couple of them to try as well. They're lovely alright - and there's no doubt they have L'Oreal Paris' ass kicked into a cocked hat packaging-wise - but I'm not convinced if you can find a matching shade in the Rouge Caresse range that you should shell out for an Addict.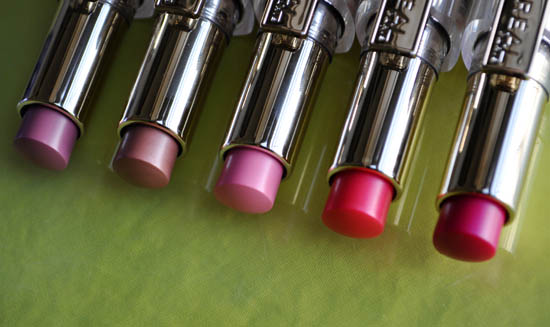 101 Tempting Lilac, 501 Nude Indulgence, 03 Lovely Rose, 301 Dating Coral, 202 Impulsive Fuchsia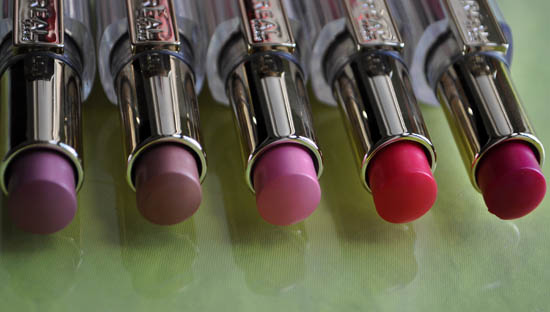 Don't they look a *teeny* bit YSL Rouge Volupte-esque when they're in their nip?
Advertised
Why? Cos the effect is pretty much the same, girls. Semi-sheer, semi-glossy and semi-staying put for an hour or two, they deliver pretty much the same experience, except for €11.99. And that's a bit of a saving on €31 for the ones Kate Moss is endorsing, eh?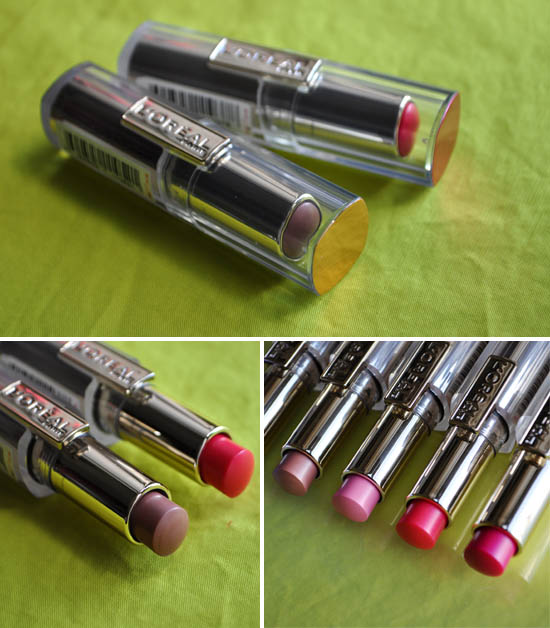 With 10 shades on offer, there's not quite so many as Dior's round dozen colours, and there isn't as good a shade range on offer either. Dior's high-end offering definitely whups L'Oreal Paris' cheaper pigments on that front.
But who cares really? If you like the shades available and want that sort of melty, more-than-a-gloss, less than an opaque creme, comfy to wear lip product that's great for day time then you're quids in. Note: if you like matte, thick, heavy coverage, avoid, avoid. You won't like these at all.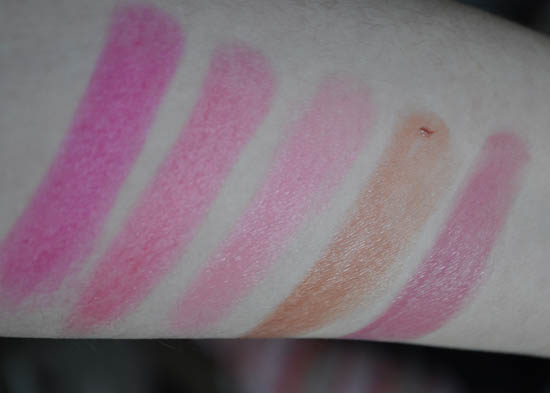 Here's the finish and you're looking at swatches of 202 Impulsive Fuchsia, 301 Dating Coral, 03 Lovely Rose, 501 Nude Indulgence, 101 Tempting Lilac
Tempting Lilac is, surpisingly, my pick of the bunch - a my-lips-but-better nude, it's a great daytime shade that doesn't pop in the bullet but which is a real winner on the kisser.
Advertised
These are on stands now; has anyone sampled the delights of Rouge Caresse yet?