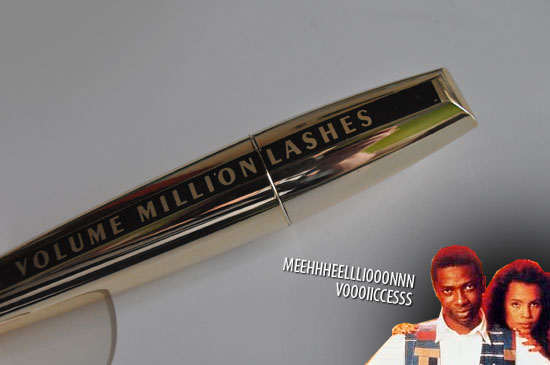 Ok, leaving out the completely ridiculous name of this product, which I admit made me slightly reluctant to try, because I was fairly sure from the get-go that no, it would not in fact give me the aforementioned number of eyelashes, what have I made of L'Oreal Paris' Volume Million Lashes mascara, €14.99?
I think it's pretty good, girls. But I didn't start off thinking that. I thought the Wand Wizard had scored a dud when I first opened it to be honest, so I put it to one side to revisit when I was a bit less crotchety. And time apart helped me and Volume Million Lashes, as time apart can so often do, in all sorts of situations. Actually, I think the main problem with this is that it's quite watery to begin with and being opened and tested a couple of times, then shut and left to its own devices for a week or two thickened up the formula and made all the difference.
I've found this with mascara before and now I always leave an initially disappointing one for a while before I head back its way for a second round, just to be sure to be sure.
Advertised
So when I reached for it again, I was pleasantly surprised.  While it does still have a silly name, and I don't think there's anything amazingly spectac about this product, it does deliver a nice finish with good definition, some volumising and lengthening, no clumps and very little mess. I like the brush. It's a new-gen plastic hedgehog and this really is my favourite type of mascara applicator. Yeah, you have to watch that you don't jab it into the delicate skin round the eye but these sort of wands are just much cleaner and easier to use than bog-brush affairs.
There's very little back-splash onto lids with this, which is a huge bug-bear of mine, so that scores it points immediately. The opened, closed and opened up again formula is a good consistency and allows several coats, one applied immediately after the other, to be lashed on with no spiders legs or clumpy ganky bits. The result is not a million lashes, lets not kid ourselves, but it is a nice result and one I'm happy with for day. It looks good with a little taupe shadow or liner, but for my purposes, it's not dark, dramatic or zingy enough for me for night. I'll stick to my Chanels and Lancomes for those occasions.
We had an ad running for this recently which gave you a chance to win a sample for yourself - did any of you take 'em up on it? If so, what did you think of it? Agree? Disagree?