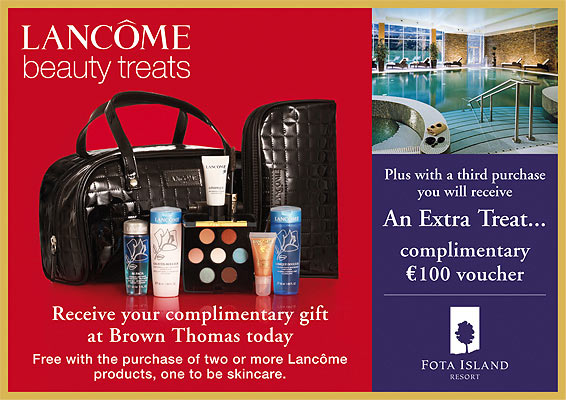 What's the most popular luxury cosmetics line in Ireland? No surprise to hear that it's Lancome.
Irish women are unashamed Lancome junkies so we're only delira to bring you the news that NOW is the time to stock up on your Lancome necessities - and get your hands on a Most Excellent stash of goodies while you're at it!
We 're loving the fact that this Gift Time brings you yummy eye treats: a gorgeous eyeshadow palette; a baby Hypnose mascara and your Most Wanted Bi-Facial eye makeup remover to take it all off. Add some more scrumptious products (including a trial size Genifique serum) and you're truly being spoiled. Which is as it should be!
Exclusive to Lancome counters at Brown Thomas you make two purchases (one to be skincare) to recieve your stash - all presented in a fabulouse two piece vanity set.  Click here to read more.
The details: your gift includes
Advertised
BI-FACIL (30ml)
DOUCEUR GALATÉIS (50ml )
TONIQUE DOUCEUR (50ml)
LUXURY EYESHADOW PALETTE
GÉNIFIQUE 5ml
HYPNÔSE MASCARA 2ml UNBOXED
MINI JUICY TUBES 93 RENO
YUMMY VANITY SET
Plus Make a third purchase and you'll receive a complimentary €100 voucher towards a two night stay in the Fota Island Hotel & Spa - Cork including breakfast each morning; or two nights in a Fota Island Lodge.*
Where and when: Available exclusively at Brown Thomas until Sunday the 27th September
Advertised
*One gift per customer while stocks last, terms and conditions apply