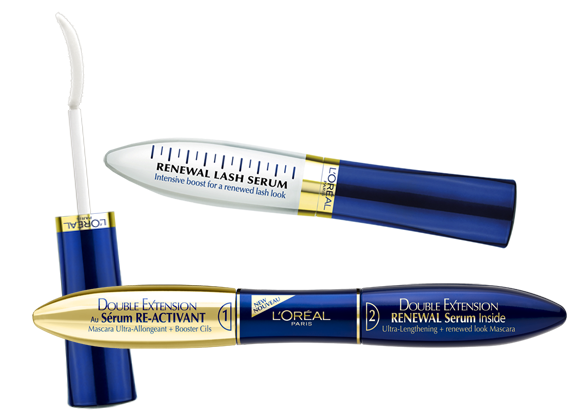 We've seen tons of innovation from L'Oreal Paris recently, some of it better than others - I don't think too many of us were impressed with the paint-roller effect foundation - and here's even more. They're busy bees in the L'Oreal labs and I think this product will find favour with lots of you.
But before I begin, lets get something crystal clear: this product does NOT cause hair to grow. If it did, it would be a medicine, the licence-to-print-money grail the beauty industry have been seeking for decades, and men the world over would be falling down dead to get their hands on it. Ok. Got that straight? Lets get down to brass tacks, so.
Renewal Lash Serum comes in two varieties: a solo Renewal Lash Serum, €16.99, and a dual Double Extension serum/mascara variety, also €16.99. The single product you can use at night or under the mascara of your choice; the double-ended doofer contains a serum-infused primer as well as regular mascara top-coat.
Advertised
What these products do is condition and deliver nutrients to lashes to encourage them to be lovely and lush and thick.  Using arginine, one of the main amino acids found in keratin (which is what hair is made up from), the serum helps to make lashes strong and conditioned as they grow.
So who's it for? If you've got an abundant Cheryl Cole-esque fringe of lashes then you're probably grand. But if you've lashes that are thin or prone to breaking, then this could be a good buy. But what it won't do is grow you new lashes - just condition, support and reinforce what you already have.
What do you reckon though - would you buy?