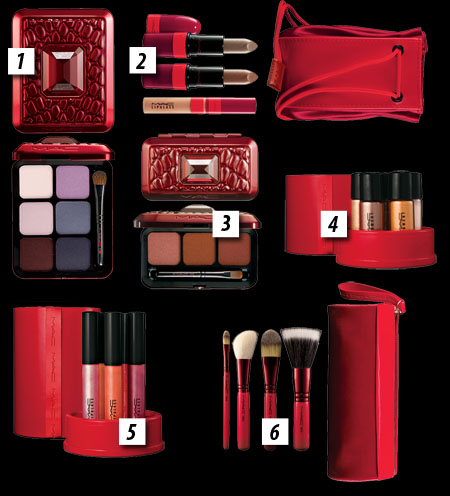 It's like glam-santa-tastic makeup, all dickied up in luxe jewel-embellished packaging and of course, it's from MAC. Their  Christmas products are just wildly nice and will make ideal pressies, as well as being ideal for the sort of stocking fillers you'd swoon to get.
What's what? (1) is a Passions of Red eyeshadow sextet, €48, in Infatuating Rose, a cool-toned collection. There are three other shadow palettes available: warm eyes, classic eyes and smokey eyes. (2) is from the Adoring Carmine collection and is called Neutral Lips. €42 bags you three lip products and that nice slouchy bag, plus you can also get rose lips and red lips sets. (3) on the list is from MAC's Passionately Red/Viva Glam collection and is a warm lips trio, €29. You can also snaffle cool lips trio for the same price. (4) and (5) are from the Little Darlings collection and are promotional sizes of warm pigment/glitter and pink lipglass/lustreglass, both are €37. You can also get cool pigments, coral and neutral lipglass/lustregloss sets and an softsparkle/eyepencil set too, all are at the same price.  (6) is these fab Adoring Carmine four Face Brushes, €65. You can also lay your hands on two five brush sets in this collection.
Advertised
Phew! I'm hoping for one of the shadow kits and the pigment set in my stocking, what about you?