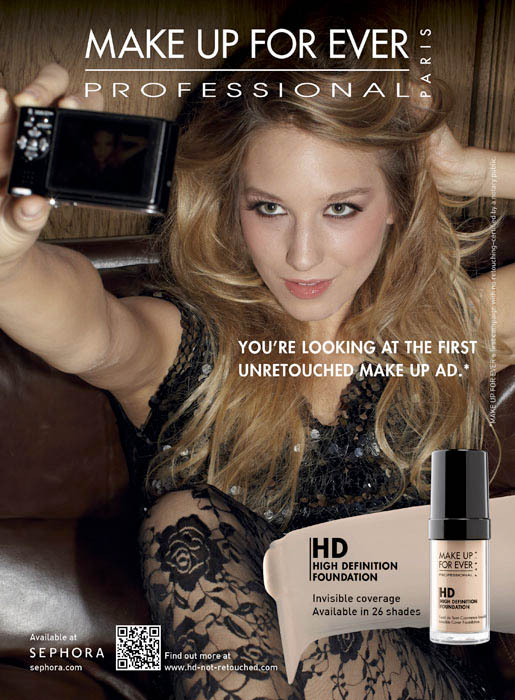 A couple of weeks ago the beauty blogosphere was abuzz with the news that French pro brand Make Up For Ever had released the first unretouched beauty campaign ad. Unprecedented yes, and a PR stunt to draw attention for sure, but it was all designed to hammer a couple of interesting things home.
One, the brand's HD products are designed for super-magnified, hyper-real situations like those experienced under high-definition cameras and outputted to LED screens, and that the results those products give can stand up on their own without the help of digital retouching. And the second thing? That Photoshopping has gotten so out of hand in beauty that something needs to be done.
Back in 2009, the French government proposed that digital images be given a disclaimer to let consumers know whether images had been manipulated or not; more recently, last April's French Marie Claire contained no retouching in support. Yesterday at an event at the Dublin Make Up For Ever store on Clarendon Street, we were taken through the HD range by MUFE international makeup artist David Arbid who told us that in France, this legislation has now been put in place and that it's hopefully soon to follow EU-wide. A rudimentary Google didn't turn up info on the new law, so I'm not 100% on that as a point of fact, but do you think it's a good idea regardless?
Would you support a disclaimer being added to photographs in magazines, newspapers and online  - like the whole lash inserts debacle - to let you know if an image had been digitally altered? Would you be happy to finally find out that models have - gasp! - pores? Take the poll below, then lets have a quick gander at the HD range before we scoot to the comments to have a chat about the issue.
Advertised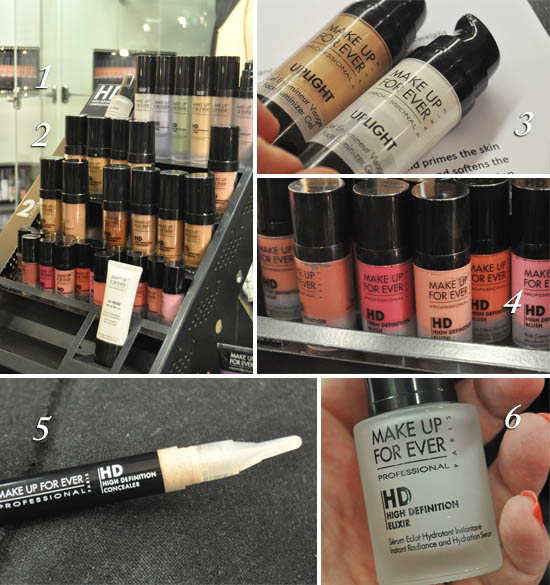 The HD range launched originally in late 2007- early-08 from what I can recall, with the foundation and a white setting powder. Lynnie's tried the liquid foundation and not been wowed by it but I also tested it and the accompanying powder on launch and liked them a lot. Since then, lots more products have been added to the line up; I'll detail them below.
Clearly, what this stuff is designed for is to make skin look excellent under very close-up conditions, taking down surface texture and it is optimised for cameras - so brides-to-be, take particular note. The rest of us not find this stuff so useful for our day-to-day makeup; but keep in mind MUFE is a pro brand mostly for makeup artists and so its products tend to be designed for use by professionals.
If you do intend to splurge on HD products, I'd definitely recommend you go into the Clarendon Street store to buy there rather than online and think about taking a makeup lesson/some pro advice while you're at it too - it'd definitely help you to get the most out of the products.
So, here's the HD product run-down:
HD Primer, €30.50, comes in six colour-correcting shades and one transparent one
HD Foundation, €35, is available in a whopping 25 shades. This is oil-free and gives a flawless, medium-to-full finish
Ahem, not a HD product but two very lovely liquid highlights in a cool pearl and a warm bronze
HD Blush, €26, is available in 14 colours and oh boy, is this stuff pigment-packed. Totally on my want list now I've swatched myself silly
HD Cover Concealer, €25, is an innovation: 14 colours, a soft, flexible silicone tip, firming properties and powders that fill in lines and reflect light give a soft focus effect and diffuse light, hide lines and sags
HD Elixir, €35, is a skincare first step to prep skin and provide instant hydration and moisture
There's also HD Powder, €32, a completely transparent silky silica finishing powder that I often use for night time makeup. It's incredibly soft and really helps to give an extra finish to makeup (PS - it also blurs fine lines!)
Advertised
Now, lets get back to the thorny issue of Photoshopping - over to you.