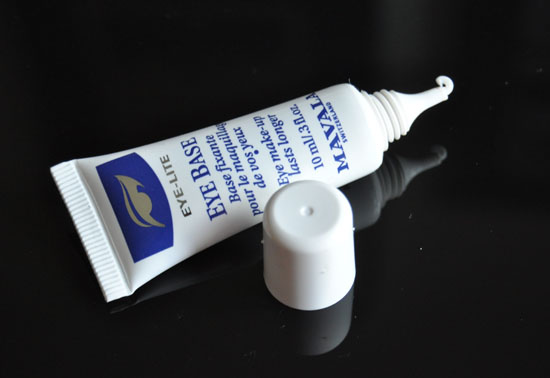 I don't think Mavala Eye Base, €6.95, has decided exactly what it wants to be when it grows up. Billed as a fixative to help eye makeup last longer - like Urban Decay's Primer Potion and Too Faced's Shadow Insurance - it doesn't have the staying power of the former or the play time and usability of the latter.
I previewed it back in January and have been giving it a whirl on and off for a couple of months now. I find it's not best as a primer at all, actually. Apply over a base shadow, and it immediately mushes it out of place. It's not wonderfully easy to work with either (though neither is UDPP, to be fair) and while it does give you greater wear on eyeshadow, it's not as good as Too Faced's version.
But I have other uses for primer, me, and one thing I like about Shadow Insurance is the fact that it comes in a squeezy tube and can be used as a mixing medium. So can this, and the white tone gives greater clarity to colours, whereas Shadow Insurance can dull them down a bit because it's beige. Of course, mixing mediums work best when they're transparent and brands like Make Up Store can help you out there, but hey, I'm just working with what I've got, eh?
Advertised
So, this is great when mixed with pigment or powder shadow to create a paintable-onable (totally a beauty term) product that'll really stay put. My preference is for creating liner, and this can be used to dupe cream ones brilliantly. It's also good for putting sparkle into place - place a small amount over shadow (gently) and then dab your sparkles on top.
For the price, you will get use out of this, definitely. You won't get the cement-hard fixitive properties of UDPP or the creaminess and ease of use of Shadow Insurance, but you'll get a handy yoke that will help you to get some extra wear out of loose powder and pigment products you might normally overlook based on the hassle-of-use factor.