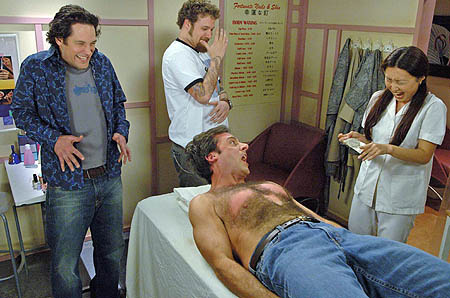 Earlier this week, on the publication of the latest edition of their Gem dictionary, Collins announced the list of words whose use they'll be monitoring in 2009 to see if they merit inclusion in next year's tome.
Predictably, most of the terms catch the current economic mood - "brickor mortis" (a difficult period in the building industry), "staycation" (holidaying at home, particularly when due to financial constraints), "recessionista" (someone whose second-hand, cheap, or subdued clothes are appropriate to the downturn), and "social notworking" (using social networking webites when you should be working) have all made the shortlist.
The one that caught my eye, however, was "manscaping", which is being defined as the aesthetic grooming of a man's bodily hair and which I first spotted on Waxpert's bill of fare. Great word, but I think Collins are missing a trick not considering "lady garden". That's the lady hair down there, for anyone who hasn't come across the phrase before, and is a personal favourite.
Advertised
The campaign starts here...