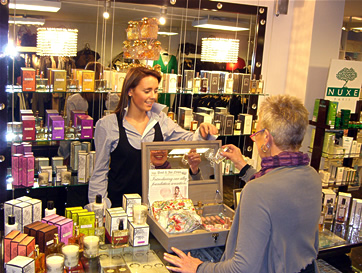 Massitige. It's like a word Ali G would make up isn't it?
But it's becoming a deadly serious term in the cut throat world of the cosmetics industry where only the fittest survive. A mash of the terms mass market and prestige it describes a product that settles somewhere in the middle. It means mass market ranges are now producing a more expensive line to go with their normal ranges and prestige brands are producing a cheaper, but still chic, version of their products.
We lead more aspirational lives and we have more money. We know all about designer ranges but we don't always want to shell out for them. But we like luxury and we know enough to tell if a product is of high quality of not.
So you don't want to buy Creme de la Mer. But you don't want to buy Constance Carrol either.
In response to this trend the huge cosmetics industry in the States started to develop new lines. At the mass market end they're now offering higher class products. And at the prestige end of the market you can get cheaper versions of the luxe brands.
Advertised
Target and Sephora really ran with this trend - and you can see Boots doing it over here. Their Botanics and Soap and Glory ranges in essence copy more expensive brands and make them affordable, but still of good quality. Off the top of my head I can name L'Oreal and their new Derma Genesis range doing the same thing
Have you noticed this happening?