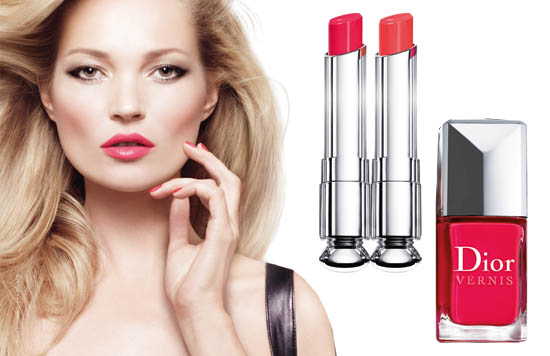 Matching lips and tips are the forecast this spring from Dior, with the new Addict Extreme line hitting counters from April 1st. Fronted by La Moss, the range includes 12 shades of lipstick from nudes through to corals, pinks and plums. It's broken into four colour families, with one eponymous, 'star' lipstick in each.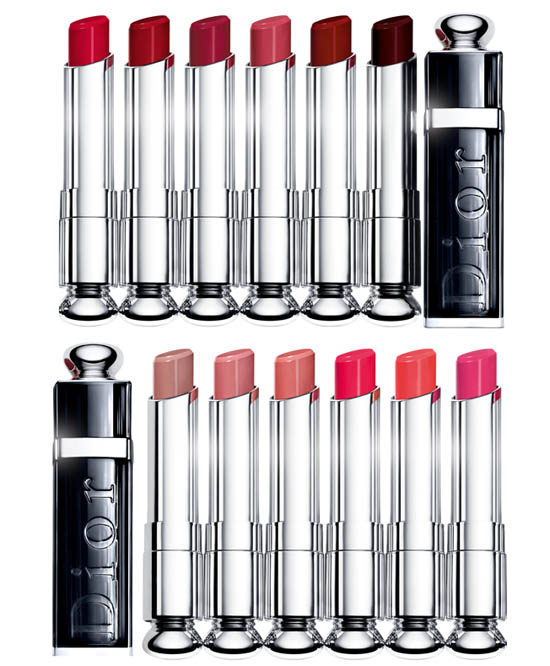 Incognito is a collection of three nudes, which takes its name from an elegant greige. Plaza is a trio of deeper hues, the star of which is a mauve-toned pink. Then there's Riviera, three bright, sunny shades epitomised by a punchy coral; finally, there's Lucky, a trio of pinks that include the shade Kate's sporting in the campaign shots. For nails, four co-ordinating shades of Vernis mirror the four star lipstick shades.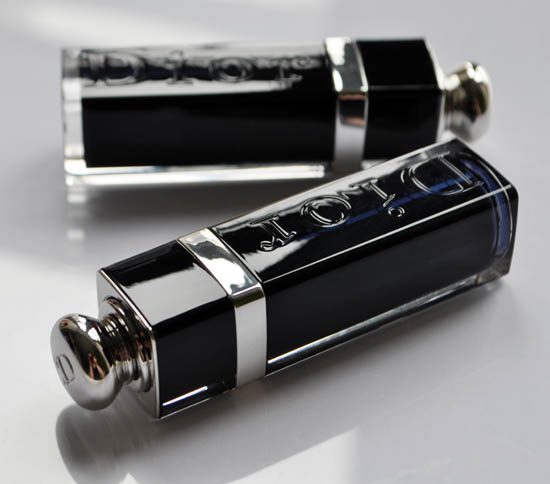 Glossy, luxe, high-shine blue-black packaging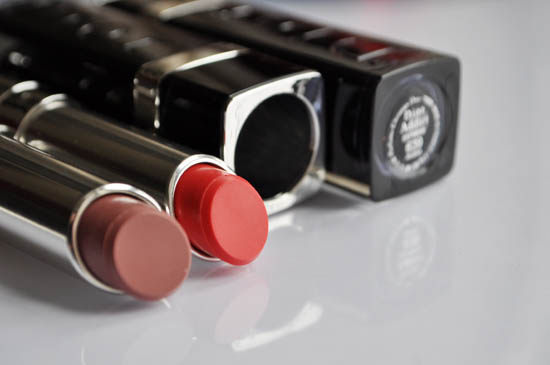 Incognito and Riviera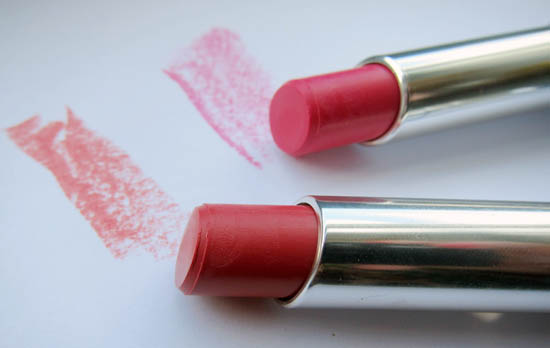 Plaza and Avenue
I was sent two of the lipsticks in Avenue, a deep rosy pink, and the aforementioned Plaza, and we've also got Incognito and Riviera to look at, along with three shades of Vernis to check out. Let's look at the lips first, because Dior is making some pretty big claims: these are branded 'lipstick that dares it all', and colour, shine, comfort and long-wearing hold are all promised.
Advertised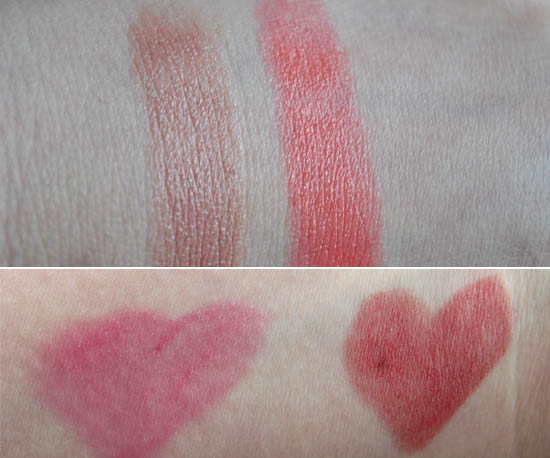 Swatches of Incognito and Riviera (top) and Avenue and Plaza (bottom - we heart them!)
So, do they deliver? Well, yes and no. Fans of opaque, highly pigmented lipsticks might baulk at the brand's claims of 'vibrant colours' and 'intense pigments'; the finish on these is between satin and sheer, leaning more to the latter and with plenty of shine. And while they do stick around for longer than the original Addicts, 'long-wear' might be stretching it a bit.
But that said, I really, really like these lippies. The texture is lovely: they go on like a balm and feel melty and smooth on the lips. The lightweight, glossy finish stems from a formula that includes four types of wax, shine boosting oils and hyaluronic acid for a really comfortable finish. I like the black and silver case, too, and that satisfying click when the bullet slips back into the tube.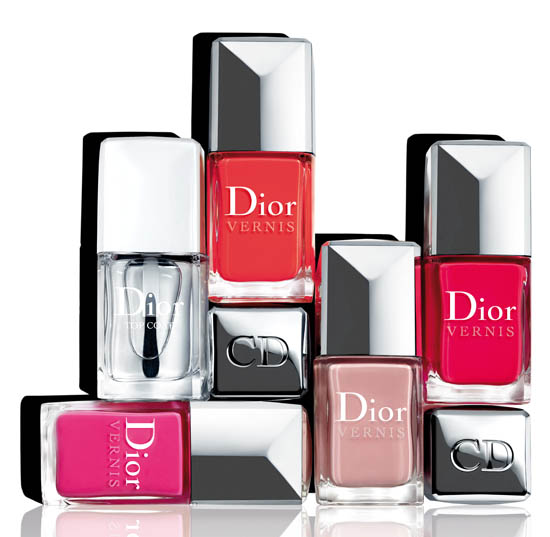 And if anything, I like the nail polish even more. The shades I have, Plaza (the pink) and Riviera (the coral), look fab together; I couldn't choose between them, so ended up wearing them both! The wide brush is so easy to work with and two quick, impatient coats yielded a smooth, high-shine finish.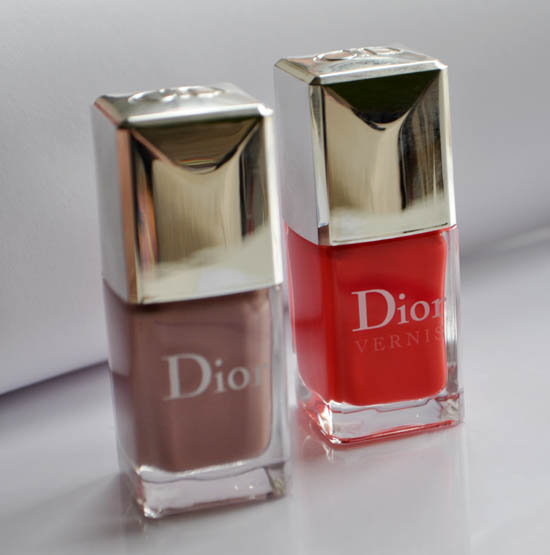 Incognito and Riviera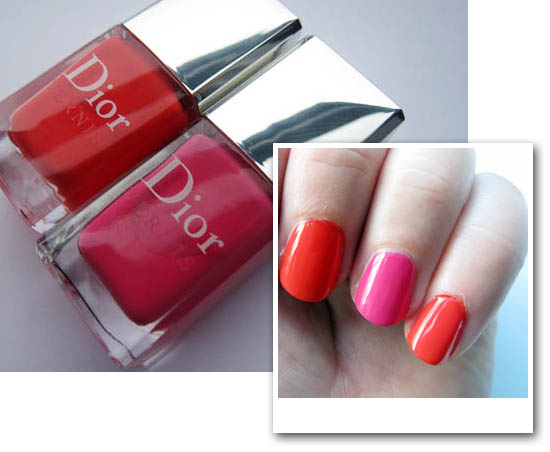 Riviera (coral) and Plaza (pink) in the bottle and on the nail
Advertised
Price will be a stumbling block for some - a lipstick will set you back €31, and the nail polish is €22.36. But they're great products, and when the 1st of April rolls around I reckon a couple more will be mine. The only question is do I want the lipsticks or the nail polishes ... or both?
Are you tempted, too? And what shades beckon?