 Sometimes I think if I want my eyelashes to look false shouldn't I just wear false lashes? And then I remember I hate wearing false lashes and why would I want them to look false anyway? Isn't that like getting a boob job and hoping it looks like water balloons filled with cement were sewn onto your chest?
Then, I see someone with amazing lashes and feel self-conscious of my own perfectly ok eyelid hairs. But they're so very average. At those moments in time I want them to excel!
So along comes Max Factor's 3-in-1 mascara to take the hassle out of creating full, long lashes. Apparently, with a dash of 'wand technology' and a pinch of 'expert formulation' Masterpiece Glamour Extensions 3-in-1 mascara was created to transform lashes from meh to marvellous!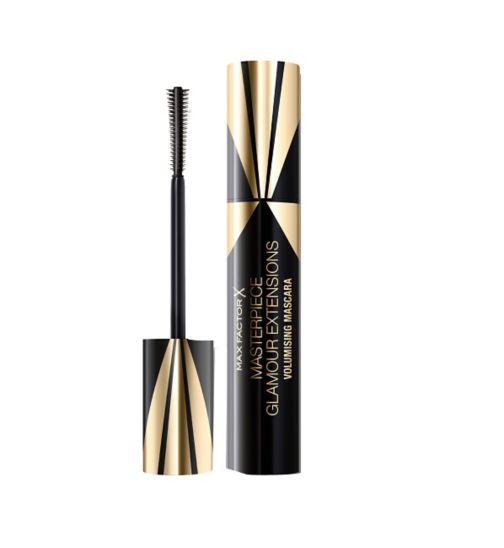 The aim of Masterpiece Glamour Extensions 3-in-1 mascara is to lengthen and volumise - and it works. I don't have a particular method to applying mascara, I remain in the school of thought that you just sweep and go multiple times (while looking in the mirror with your mouth open in a curious fashion of course) but Max Factor Makeup Artist Caroline Barnes advises that you can use this special slender wand in different ways for different looks. Wiggle the wand from the lash base and pull through, for example, to achieve 'intense volume.'
I love the result of the Masterpiece Glamour Extensions. As my lashes touch my brow bone when I look up I know that it has done its job. My lashes look fuller (that's down to the volumising prills in the formula I guess, as the press pack tells me) and longer (perhaps because of the 30,000 carbon black fibres that are in each tube.) They are not weighed down and I think they look impressive enough to forego falsies, especially if you add liquid liner to the mix. But as I said, I don't like the false look anyway.
Advertised
I like the way my lashes still look somewhat natural and defined but blacker and longer and thicker. Of course it's obvious my lashes have been enhanced - that's the point of this mascara. It can be worn with a couple of coats for day time glamour and for night it can be loaded on for full on power lashes without the glue and fiddling around.
Max Factor Masterpiece Glamour Extensions 3-in-1 Mascara will be available in March priced at €13.99 and it's a yea (yay!) from us! Will you be checking it out?