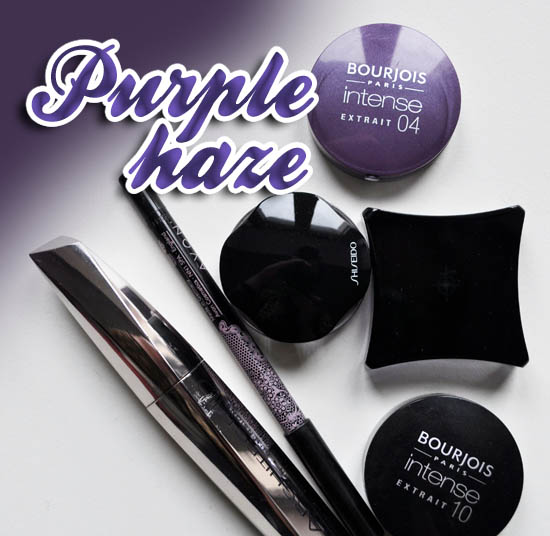 Purple's one of my favourite shadow shades so it was a no-brainer for the colour I'd choose for eyes for last Sunday's jaunt to Belfast for the MTV EMAs.
The fact I had to apply pounds of it at 11am in order to catch a train north and then stand about in daylight with people peering at me, wondering if I was on a Walk Of Shame didn't even marginally put me off. Eschewing a smokey, I just went for colour on the lid, a lick of liner and loads and loads of mascara. Here's what I used: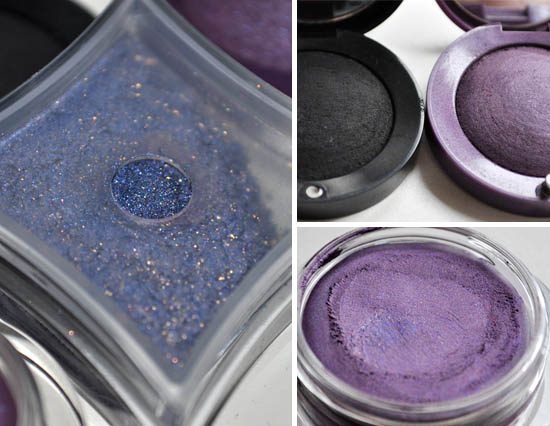 I applied Shiseido Shimmering Cream Shadow in VI 305 (bottom right) on the lid and then packed on Bourjois Intense shadow in 04, a pigmented plum-purple (top right). I used a dampened brush and pressed it into the Shiseido base, then blended both up and out towards the browbone.
To the outer v of the eye I then added a small bit of Bourjois Intense shadow in 10 (top right), a super-strong black we've met before, and blended it in towards the nose, for some extra depth and definition. Oh the ball of the eye I wanted some more colour as it was all looking a little matte, so I patted my finger back into the Shiseido cream, then into the Illamasqua pigment (left), and dabbed it into the centre of the lid.
I then added a very fine line of Avon Supershock Liner - with a freshly sharpened pencil - the whole way across the lashline, but didn't flick it, and put on about 56 coats of my precious L'Oreal Paris 4D Lash Architect mascara (both products are shown in the top pic). Et Voila.
Advertised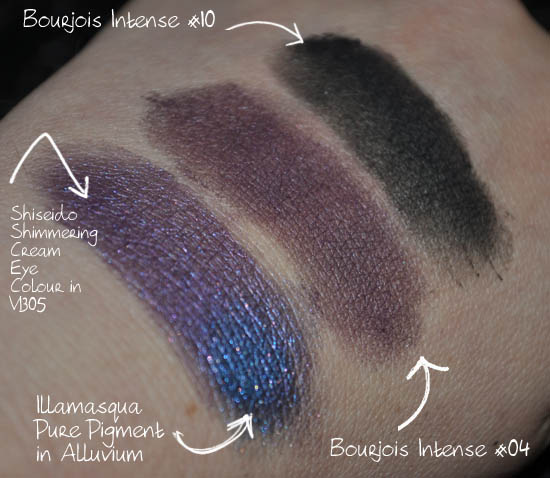 Swatches of the shadow and pigment colours - this was taken at night, using flash.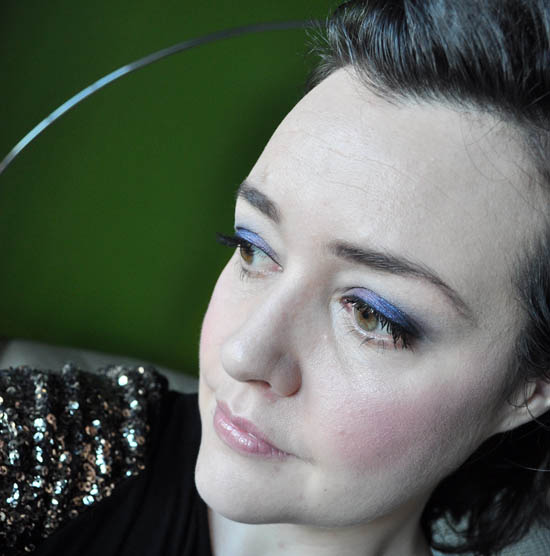 And here's how it looked on the lid. I tried to be understated and go for a nude lip - this is a Nars shade, can't recall which one now, but feck it, it didn't last. Later on I did away with that and out came a Mac Mattene Lipstick in Rare Exotic for a bit of fuchsia fun. The rest of the makeup is Max Factor Xperience foundation, a Shiseido concealer around the eyes, Mac Beauty Powder in Snowglobe, and Coralista (Oh what else).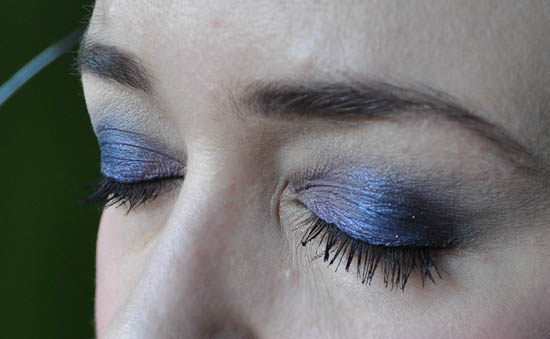 And here's a closeup of the colours on the eye.
Advertised
And I'll tell you more about what I saw through my purple-decorated eyes at the EMAs tomorrow!