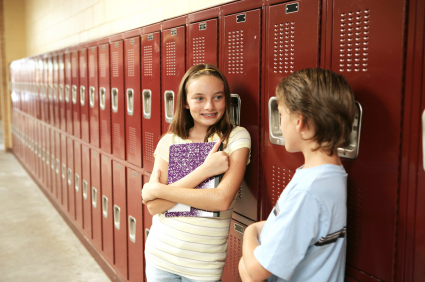 "Will you go with my friend? He's over there."
As if I didn't know! I had been doing nothing but giggling nervously with my friends over him since we arrived in the teenage disco. I had loved him for so long. Well three months anyway. Which is forever when you're eleven.
Nervous giggle: "Ok"
And that was it. We were a couple! During the opening strains of "You're Once, Twice, Three Times a Lady" when the DJ announced "Now we're slowing things down", the same friend made another approach. "Will you have a slow set with him?"
"Ok" I giggled nervously and we shuffled selfconsiously around for a couple more corny tracks.
Advertised
We didn't see one another again until the end of the disco when he appeared at my shoulder. "I'll be round the back of the supermarket with my mates on Wednesday if you, eh want to come."
I was so in love! On Wednesday I collected my posse of a dozen strong and we swarmed round the back of the supermarket over excitedly chatting and eyeing up his collection of friends (all of whom were smaller than us). More love matches were made and we all returned home deliriously happy.
The next week he broke it off with me. One of his friends cycled up to me, gave me the news and cycled off.
I don't think we'd ever spoken to each other directly. Ah, young love eh?
What happened with you and your first boyfriend - let's have a good laugh!
Get Beaut.ie Delivered
Stay updated with Beaut.ie newsletters full of the latest happenings at Beaut.ie as well as great offers and things we think you might find interesting .